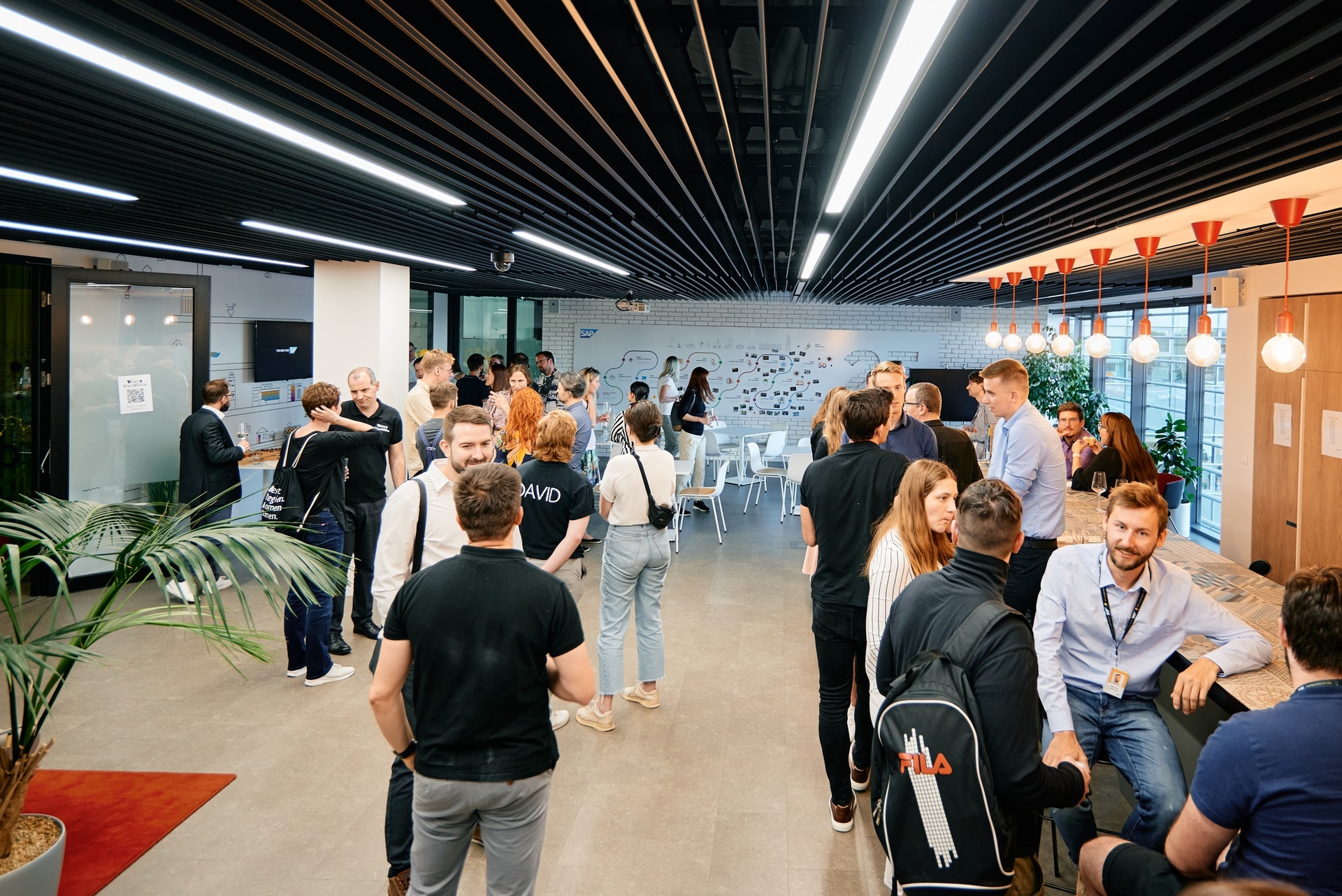 What's #brnoregion all about?
#brnoregion is a brand that companies and institutions use to jointly increase the attractiveness and visibility of the South Moravian innovation ecosystem in order to attract foreign professionals. See what it has to offer and how you can use it.
Who stands behind #brnoregion
#brnoregion activities and marketing materials are intended for all companies and institutions in the innovation ecosystem of the South Moravian Region. The strategy of the #brnoregion project is managed by
JIC
based on the
Regional Innovation Strategy of the South Moravian Region
. At JIC, this project is coordinated and orchestrated by the #brnoregion innovation ecosystem marketing team.
#brnoregion innovation ecosystem marketing team's main activities
Attractive innovation ecosystem
We are happy to cooperate with anyone who'd like to promote our region throughout the world. Together with companies and institutions in the ecosystem, we let the world know about all cool stuff happening in the #brnoregion – because only together we can put #brnoregion on the world's map and benefit from its brand.
Join us
Velvet Innovation
Velvet Innovation is a platform where representatives of companies, public institutions and universities meet. Here they not only learn about the latest news in the South Moravian innovation ecosystem, but also create new contacts, collaborations and projects. These gatherings take the form of regular meetups and one large annual conference.
Velvet Innovation website
Toolbox
Toolbox is a free data, image, and video bank full of helpful materials when introducing and promoting our ecosystem. Everything on toolbox is free, with no copyright concerns. It is always available and updated regularly. Do you have your own materials that others might find useful? Via the Toolbox, you can easily share them right away.
Browse #brnoregion Toolbox
Data Report
In the Data report, you will find filterable, exportable and cited data related to science, research, innovation, and business in #brnoregion. The data report is issued annually by JIC. The data is here for everyone, free of charge.
See #brnoregion Data report
What do our partners say about the pLATFORM
Michal Kostka
CEO / BioVendor Group
Clinical diagnostics is on the rise in the #brnoregion, but not nearly as well known as, say, our colleagues in electron microscopy or IT. The #brnoregion provides an way for us to present ourselves to our partners around the world as a part of an advanced innovation system.
At the same time, we recognize that being a part of the ecosystem also means actively contributing to its development. That is why we were happy to provide our workspace to shoot materials for the ecosystem's shared image bank
toolbox
.
Čeněk Absolon
Director / Regional Chamber of Commerce
Introducing the innovation potential of Brno and the South Moravian Region is a key part of our activities, especially when establishing contacts among Czech and foreign companies on our business missions. South Moravian companies participate in these missions at trade fairs throughout Europe. In this way, the Brno Regional Chamber of Commerce contributes to the increase in the competitiveness of local businesses, and helps our region develop an excellent reputation beyond the Czech Republic. That's why we like to use the materials offered by the #brnoregion platform. We believe they'll help people working in the global trade, research and development, as well as students to come to #brnoregion.
David Sedlák
CFO, CMO / EPRIN spol. s r.o.
We like to use the materials from #brnoregion particularly to support this place we all love. Created by true professionals, the materials provide inspiration and help us create both one-time and multipurpose company presentations that focus on the spirit and heart of the services we provide. Established in Brno in 1992, our company is still located here, in the region with thousands of job opportunities across all disciplines. Thanks to #brnoregion, we're letting the whole world know that we're proud of where we come from. And when in need of marketing materials, we like to use its toolbox.
Iva Šašinková
ex-Science Marketing Manager / Masaryk University
The #brnoregion toolbox is a professional tool to introduce opportunities for science, research and development, and innovations in Brno as well as the entire region. #brnoregion makes sure the information is well arranged and available to anyone, anywhere, anytime. For Masaryk University, #brnoregion is an amazing source of inspiration as well as authentic marketing materials and an excellent, forthcoming partner.
Jiří Komárek
Head of marketing / MapTiler
In MapTiler, we're a small team creating big things and aiming very, very high. Within two years, we want to become the main provider of maps on the European market, and we could hardly do this without the best people in the discipline, full of enthusiasm and passion about what they do. In the last two years, MapTiler has tripled in size, and it's thanks to #brnoregion that we've gained some enterprising talents and excellent companions. We work remotely from all over the Czech Republic and Europe, but Brno remains a basecamp for our team to meet and successfully finalize projects as well as for our team building activities.
Kateřina Soukupová
PR and communication manager / CEITEC VUT
While preparing an international conference, we were looking for visuals to draw the attention of foreign attendees by combining the region and top-level science at CEITEC. The #brnoregion team prepared the graphical art we used for both online and offline promotion, and we received quite a response. I really appreciate the team's speed and willingness to create a hard-to-miss #brnoregion motif with our magnetic research on conference T-shirts as well as in booklets.
Michal Hrabí
ex-CEO / Phonexia s.r.o.
The #brnoregion data report is an excellent and well-arranged source of information about the development of our region. It helps us realize what we are all strong at and what to further work on in order to see more hi-tech companies established here. A more advanced region packed with both human and financial capital is something we'll all benefit from.
Martin Janáček
Managing Director / SAP Labs CZ
We like to use the materials produced by #brnoregion frequently, as we believe in the potential of the place where our development centre is based. #brnoregion makes an excellent basecamp for talents and innovation business, and we've been co-building this image by using freely accessible data and information on IT, innovations and universities, the history of the region, and successful companies. The materials from the #brnoregion toolbox have come in handy numerous times, especially when presenting our Brno branch to our business partners.
Petr Chaloupka
CEO / GreyCortex
What we appreciate most about #brnoregion is the way it interconnects people and companies to help them achieve more. When we decided to help Czech hospitals and raise their level of security against cyberattacks, #brnoregion helped us get the message across in crucial places. We are proud to be an active part of this ecosystem which inspires you and helps you do business.
Veronika Šimková
Senior Manager of Talent Acquisition for EMEA / Zebra Technologies
In Zebra, we share JIC's view of #brnoregion as an excellent place for our careers, lives, and the development of our business. With its toolbox, we've gained a valuable tool to present our company and its strategic location in the attractive city of Brno and to not only support its local growth but also attract interesting talents from various countries. And that's why we always add the #brnoregion hashtag to our relevant posts on social networks.
Vendula Nováčková
Director / Representation of the South Moravia to the EU
Thanks to #brnoregion, we've been presenting the South Moravian Region in the EU as an excellent place for science, research and development, and innovations. All the information is well-arranged and located in a single place, so we won't ever forget about anything. The materials are very impressive and contain all the facts we need. And the toolbox is an excellent resource whenever we need to promote our beloved region!
Radek Šťourač
CEO / Kinali
On our website we wanted to announce that we are a part of a technology region, and the #brnoregion toolbox was a source of graphical materials and information that would have been very difficult to find elsewhere online. It didn't cost a thing and we even "infected" other companies with our excitement to present the region on our website.
Tomáš Nawar
Brand Manager / MADFINGER Games, a.s.
The Gamescom international video game trade fair is the biggest feast of the gaming industry. In 2018, it was where we promoted our new game, and where we teamed up with the city of Brno to draw attention to game development and the educational environment in Brno. Our organic connection was visually highlighted by BRNOGAMEDEVCITY graphical art we gained thanks to the #brnoregion toolbox. This way, we showed how Brno actively supports the gaming industry and creative industries in general.
Michelangelo Ischia
ex-Communication Specialist / Deutsche Telecom
The materials from the #brnoregion helps us to promote our fantastic city to the new colleagues coming from abroad and to get familiar with the activities happening. It is actually cool to see how colleagues are surprised by how much activities take place in the city! As we love digital, we use the material in our company presentation, in our TVs all around the office and in our intranet, which gives visibility to the #brnoregion also in Germany, Romania and Slovakia!
Rimgaile Meskaite
Team Leader of Tieto Mainframe Services / Kyndryl
With more than 93+ nationalities Kyndryl is one of the most diverse centers and companies in Brno. We have many foreigner employees who are not familiar with the city and also are new to the Czech Republic. #brnoregion is a great project which lets us share important information to newcomers, helping them to adapt to the environment easier. #brnoregion is a great way to show employees fun and interesting things happening in the city, places to see or things to do. This makes people adapt easier and feel better in the new environment they live in.
Vít Čermák
Director of the Regional Office for the South Moravian Region / CzechInvest
The #brnoregion portal provides much needed information for the development of the business environment in the region. At the CzechInvest regional office for the South Moravian Region, we use #brnoregion materials in presentations for investors coming to the South Moravian Region. The great advantage of these materials is their excellent graphic and informational design, focus on key trends that attract and pull innovative companies with added value and technology startups to the South Moravian Region. We also use #brnoregion materials in the area of talent attraction. We know from experience that the #brnoregion portal is an inspiration for other regions to effectively present the region to incoming new business partners.