Expats doing business: Alexandra Georgescu
Her studies and later professions took her all over the world, yet Alexandra Georgescu eventually settled in Brno. Once here, though, she felt it was lacking a strong community of designers, so she created her own successful festival to fix that. She has been equally successful in spreading the pleasant philosophy of the KOGAA studio, which she and two associates established in #brnoregion five years ago.
Alexandra is an interior architect who comes from Romania but moved to Italy when she was a little girl and completed her studies there. And she blames Italy for infecting her with her sense of style. "Non podere la faccia – don't lose your face, as the Italians say. This means that you have to look perfect wherever you are, and Italians have a great sense of style. I think I'm trying to spread this idea wherever I go." And she's been places! As a student and later on when working, she stayed in England, Denmark, Japan, China, and the Netherlands, which is where, as a student of a master's program, she came across her future connection to the Czech Republic – her colleague and partner Tomáš Kozelský. After gathering experience at an architecture company in Beijing, they decided to establish their own studio in Brno. Tomáš's friend from the university, Viktor Odstrčilík, joined them and together they established KOGAA in 2015. "The Czech Republic was the perfect option for starting a company, since the country's economy is one of the fastest growing in Europe. We chose Brno for several reasons, including the fact that our now third partner was based here, and he had an existing portfolio of clients and contractors we could start collaborating with."
KOGAA is an international creative office, active in architecture (particularly interiors) and urbanism. Its members create substances for built environments, committing to projects with a positive impact on users, communities, and the local context. They develop projects from strategy and business plans, they design, build, run, and generate attraction. Through their projects, the architects from KOGAA promote the concept of "slow development" by proving that instead of being demolished, buildings can be revived and given a new purpose.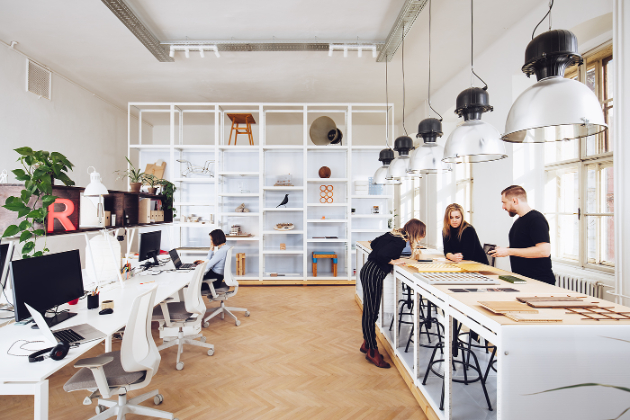 Reviving old and unused places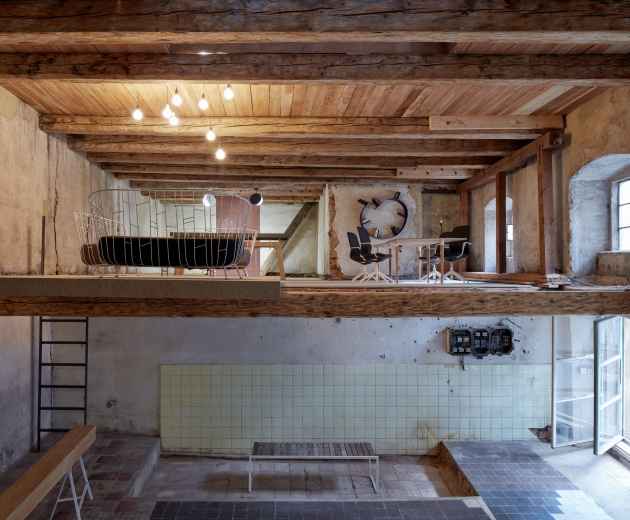 This is how Alexandra came to Brno, and their early beginnings even turned her and her partners into developers. As they needed some offices, they renovated a former distillery and started to ensure that the building was put to good use. Without major structural modifications, they transformed it into the multifunctional The Distillery – Social Reactor centre, now pulsating with life. And this is how their very unique philosophy began to spread. "Originally a distillery, then non-functioning for many decades, it was given a new life and a fresh identity while keeping its story alive. The typology of the Social Reactors is designed as an organic body with the potential for expansion in different directions, absorbing various subjects from which it can be influenced and grow with."

Among other successful, i.e. careful yet effective, projects to revive dead buildings by KOGAA is a reconstruction of what used to be Lyceum. Apart from the offices for the studio, it offers other shared community work areas.
Creating beautiful things isn't enough
And it's the community that Alexandra considers very important. Despite being from abroad (or maybe because of it), she decided to unite the community of designers in Brno. In 2017, she organized the very first Brno Design Days festival (now a very famous event), which helped bring local creative people together and jumpstart their cooperation. "I like to follow the local design scene and enjoy the way its members and their identities gradually grow. They took their own path of honesty, based on the nature of the Czechs; they are very humble in terms of both mindset and self-presentation. I believe Czech design and architecture have great things ahead of them!"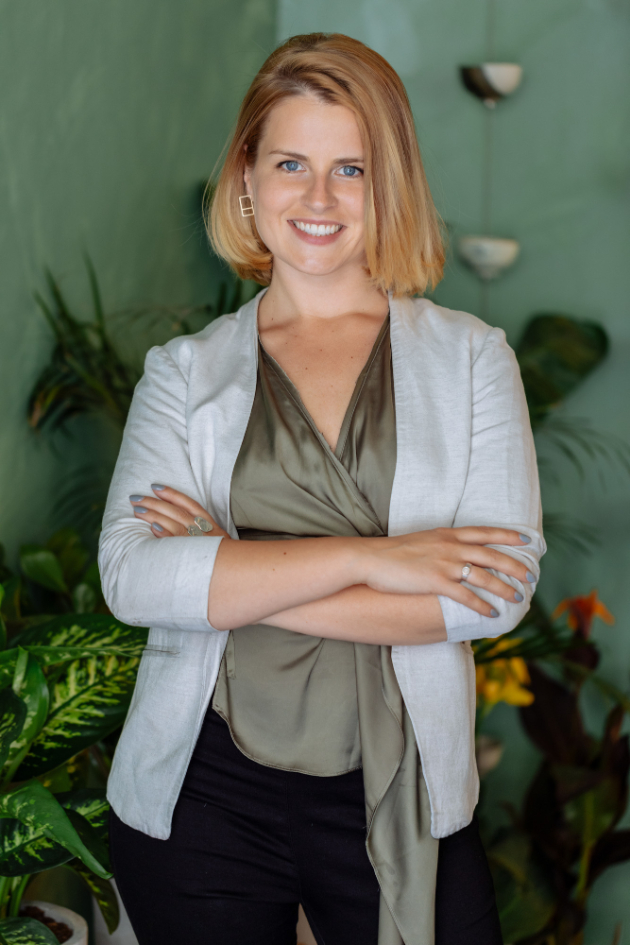 According to Alexandra, it's not enough to simply create beautiful things. "Beauty is only the required minimum. I believe the role of architects has been changing and they need to get more involved in the entire process. They could plan the strategy of a building, think about how it will be used, and – last but not least – about its sustainability. And not only in terms of ecology but also finances."
KUMST – a helping hand for the creative people from JIC and KOGAA
The KOGAA studio joined forces with JIC, and a combination of fate and mutual respect brought them to what's called mirrored cooperation. "The mentoring program at JIC helped us define our roles in the company to eliminate stress and keep us really happy. Now, each of us does exactly what they enjoy, so our work is not only more efficient but also a lot more positive." And similar conditions for work will be soon offered to other people from the culture and creative business at KUMST, a creative hub in Brno prepared by JIC. It's no coincidence that the building where KUMST is to be based has been completely designed and coordinated by KOGAA.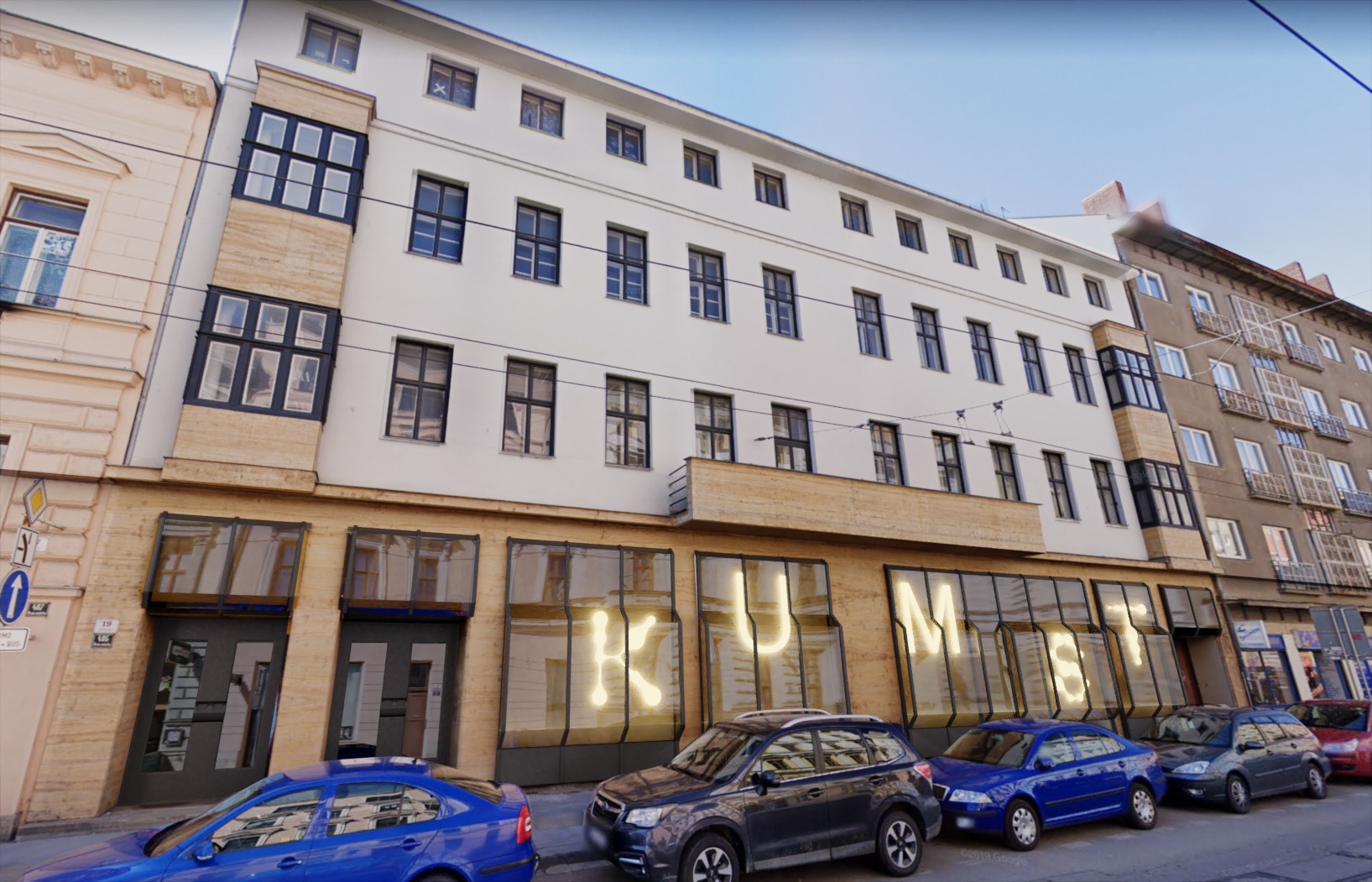 Reliable, very serious, and hardworking Czech people
If Alexandra were to decide again where to establish her company, she wouldn't change a thing – the Czech Republic, and specifically Brno, are perfect. "There is no such thing as a 'Czech problem'. Every country has its own regulations, limitations, as well as cultural and mental understandings that need to be taken into account. I believe from my personal experience that Czech people are very reliable, very serious, and hardworking."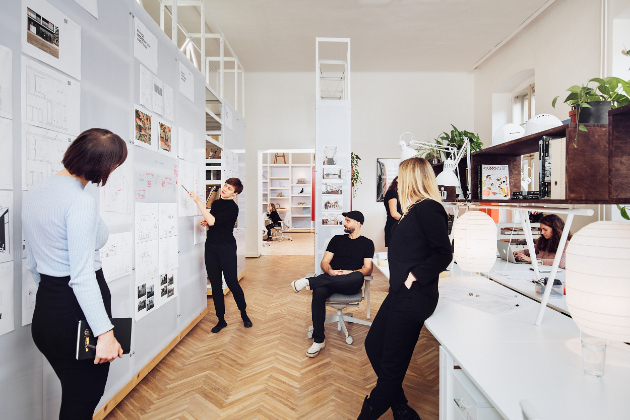 And even though Brno is no longer big enough for KOGAA, as the studio recently opened another office in Prague, these architects plan to keep their base right here. On top of that, they'd also like to expand gradually not only to our capital city, but to other regions in the country as well as abroad. "The constant new challenges we have to face, that's our biggest problem as well as resource. It never ends and it's in fact a lifelong project."
Alexandra's advice for foreigners who consider establishing a company in #brnoregion
"Establishing a company here is pretty easy but it is important to have someone to help out with all the legal, financial, and other bureaucratic matters – just like in every other country."
Read more about the topic
21. September 2023
Jan Neuman: Only together can we make Brno the world center of electron microscopy
Every third electron microscope in the world is made in Brno. But what makes the South Moravian metropolis the mecca of the field is the whole ecosystem of collaborating organizations and people. How are they interconnected? And what do they do to nurture and attract new talent and top experts? Jan Neuman, CEO of
NenoVision
and initiator of the Regional Microscopy Platform, answered questions about electron microscopy's past and future in #brnoregion.