World from Space
It all started with two excited postgraduate students and an unrealistic dream of using the data from outer space. Today, however, World from Space is a company which helps communities as well as other companies deal with problems such as drought or quality of air.
Even as a postgraduate student of cartography, geoinformation technologies, and remote data capturing, Roman Bohovic already enjoyed planning his future business. He was aware of the huge potential of satellite data, but the high cost of it made it accessible only to the military and universities. That's why this idea had to wait for the right moment which came when he later met Jan Labohý, a postgraduate student of environmental studies.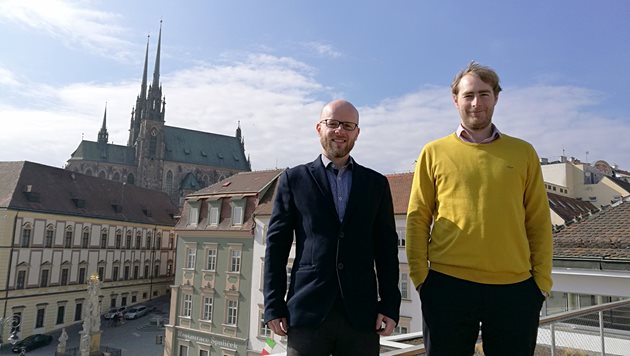 "Our cooperation started with an idea to do meaningful business. We had both dealt with climate change and our aim was not only to generate profit but also to help society get ready for changes already taking place."
Both had experience dealing with climate change — Roman at university and Jan in the non-profit sector. They discussed it, thought about it hard, and together they dreamed up a company to help the world adapt to the changing environment. When the EU granted access to the data from the Sentinel satellites of the European Copernicus program, they didn't hesitate: they established World from Space and, in the autumn of 2017, applied for the JIC ENTER program which helped them start up their business. And since the beginning of 2019, they've been part of the business incubator of the European Space Agency.
World from Space is a young company from Brno which provides towns, cities, regions, and companies with easy-to-understand information from satellite data collected by the Sentinel satellites of the European Copernicus program. The company helps its clients solve local problems by using information on current conditions and changes in vegetation, drought, infrastructure, and economic activities.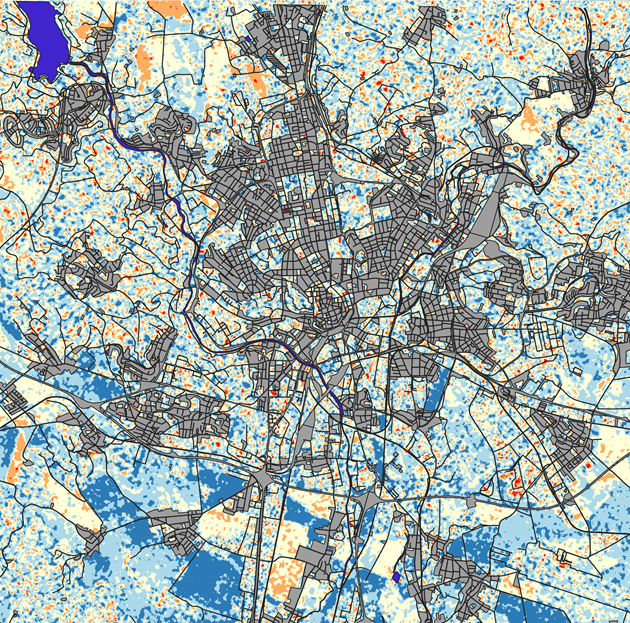 A bumpy path for satellite data
Getting the business started was no walk in the park, though. The fresh postgraduate students thought they'd be the first in this sector, so it came as a big surprise when they found out there were a number of companies developing similar products on the market, only not promoting themselves. Refusing to get discouraged, they created a business model and started to look for their first clients.
"The biggest obstacle is that nobody knows all the ways this data can be used. People look for one, find it and try to expand and monetize it. We, however, do know how to use the data, but not every idea has business potential," says Roman Bohovic, one of the founders of World from Space.
First the company wanted to focus on farmers and offer them simple and easy-to-understand information about the condition of the soil and about places with only low yield. However, Czech farmers adopted digital technologies later than their colleagues in Western Europe, so instead the company shifted its focus to working with the government. Eventually, private companies turned out to be ideal customers, but the current products under the World from Space brand serve well for all these sectors. In the end, Roman and Jan decided to focus more on selling their products to companies. Today, they are also working on a product to help insurance companies assess damage incurred in agriculture and forestry and to introduce new types of insurance plans through automated assessment.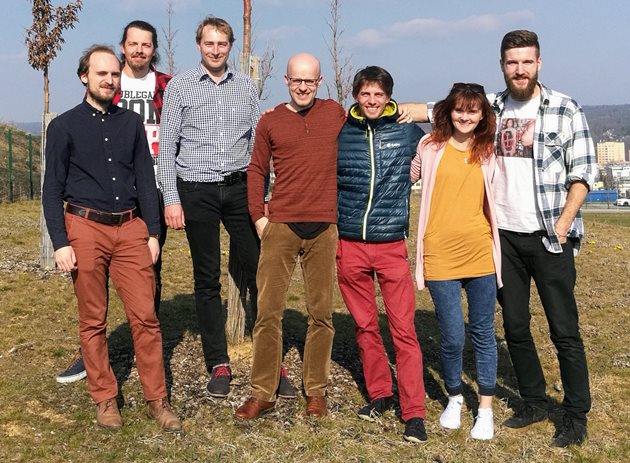 Satellite data may come in handy for farmers when planning their crops and yield. The analysts from World from Space offer them references for what's called smart agriculture, which includes not only monitoring the current conditions of fields and vegetation but also analyses of drought progress in combination with current conditions of crops in the fields. The photos taken from space are used in forestry (e.g. to monitor the progress of bark beetle calamities) or in urban planning by architects and urbanists.

The satellite data from the European Copernicus program is available for free and in full resolution. However, it's not easy to interpret and understand what the images actually show, as you need to have some knowledge of IT, cartography, and geography. At first sight, the satellite images look like they were taken from airplanes, only they capture much larger areas. Also, given that the satellites send over data approximately every four days, the images are more up-to-date.
From Brno to the whole world
Just like every proper start-up, World from Space would like to grow quickly and dreams of breaking through to the European market. However, two things are needed for that – people and money. At the moment, it is mostly Roman and Jan working on development, but they are already cooperating with several contractors. They'd like to test their products on the Czech and Slovak markets and gradually move on to Poland and Germany.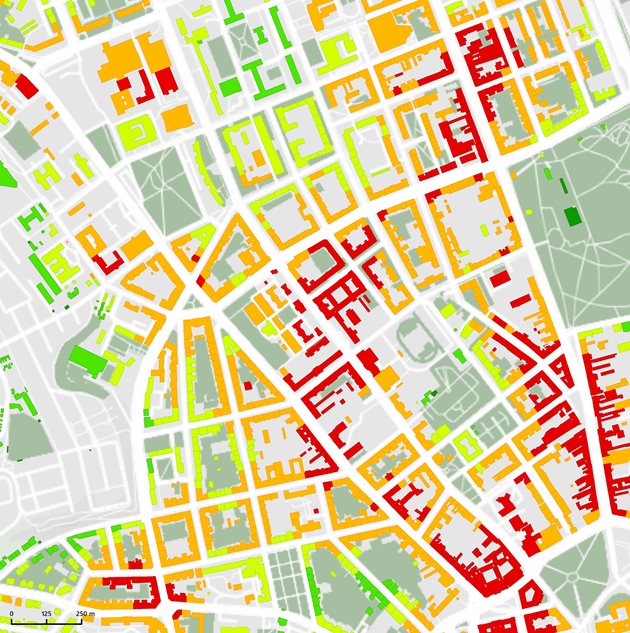 "We can see that lots of things can be built gradually, but in our sector everything has to be done quickly. If we slow down, we'll soon disappear," says Jan. And that's another reason why they've started looking for an investor to provide them with finances for product development, expansion abroad, and to hire new colleagues.
Read more about the topic
1. June 2023
#brnoregion launches the Dealroom ecosystem database
We have joined a network of more than 200 countries around the world mapping their tech ecosystems. The
Dealroom
platform is a live database of startups, funding rounds and investors that make up the #brnoregion ecosystem. It is a tool for both founders and investors in Brno and South Moravia. Find new business opportunities and spread the word about your company!
19. April 2023
Robots, made in #brnoregion:  BRUKER automates microbiology for personalized medicine
In our "Robots, Made in #brnoregion" series, we introduce companies developing smart solutions for automation. As the Bruker brand shows, the usefulness of automation extends far beyond manufacturing companies – it can even make processes in microbiology laboratories simpler and less susceptible to human error. And the result? A simpler process of identifying microorganisms and preparing references for diagnostics and treatment of patients.