Artist Kateřina Šedá connects people not only in #brnoregion
Despite being a graduate of the Academy of Fine Arts in Prague, Kateřina Šedá's projects leave her working mainly with people, communities, and relationships. She conducts her social experiments not only in the Czech Republic, but throughout the rest of the world, as well, thanks in no small part to support from the most significant global galleries.
Kateřina Šedá's work is sought-after across various disciplines. Some call her projects art, some consider them social experiments, and for others the meaning of her work lies in designing public spaces. All the projects have one thing in common, though; they point out problematic relationships and try to resolve them. According to Kateřina, she connects people based on what divides them. She's done countless projects in the Czech Republic as well as abroad. Not all of them are meant to be exhibited in galleries, as they're about what they help their participants learn.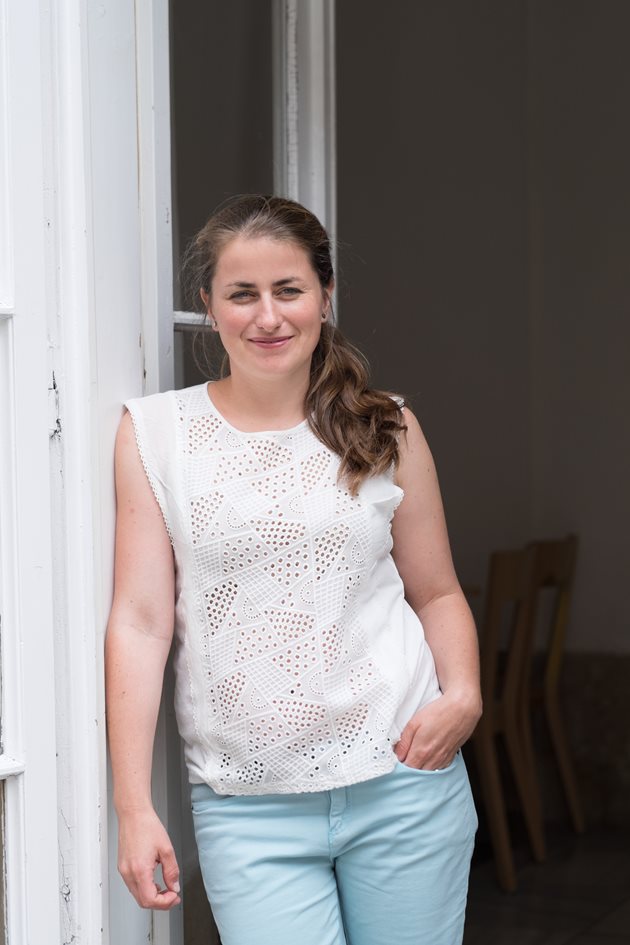 Motivation? Lack of interest and Czech problems
Your main motto is to connect people based on what divides them. You work directly with people a lot. What's so fascinating about this type of work?
There are lots of reasons. One of them is that at a certain phase during my studies, I found out that the number of people interested in arts is very limited and I wanted to find out how to attract more of them. Usually, people go to galleries, but I wanted to know if I can do it vice versa; instead, with my first projects, I went to see them, house by house. And their lack of interest was, in fact, what motivated me.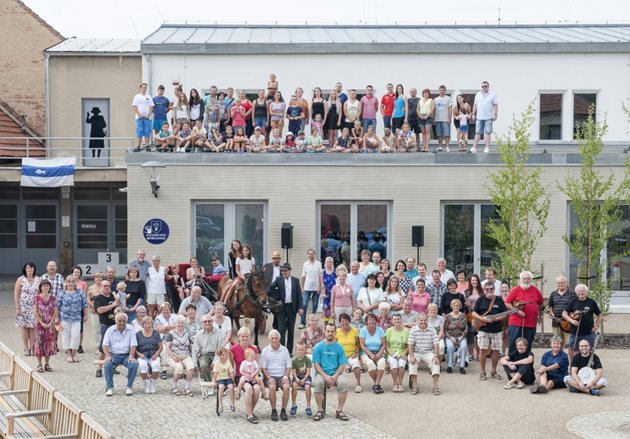 Another reason was my background. I was born into a family with no relation to arts whatsoever. My mum is a shop clerk and dad is an electrical mechanic, so I had no prerequisites for arts and wasn't really supported or motivated by my parents. And in the small towns from which most of my topics come out, I'm fascinated by confrontations with the given place. My parents are also my consultants for the projects.

You've done a large number of projects. Do you work in the Czech Republic or abroad?
Up to 2005, when I was given the Jindřich Chalupecký Award, 90% of the offers had come from abroad; I worked on almost all of them abroad or here, only paid from abroad, and the results of the projects were sent abroad as well. Also, every year I spent at least half a year abroad. I've worked mostly on Czech projects only in the last five years, as my second daughter was born and it was difficult for me to travel with the kids. I do miss staying abroad, though.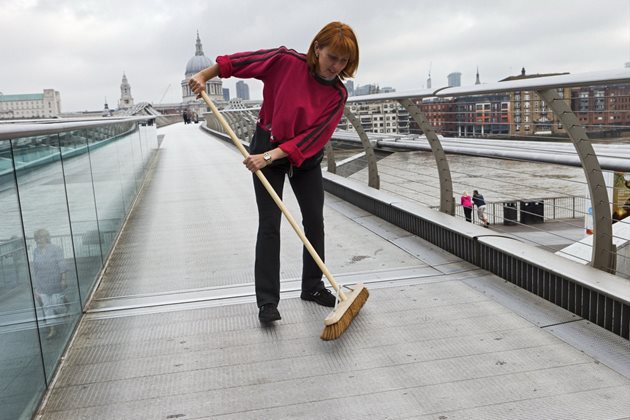 Every year, an independent jury awards the Jindřich Chalupecký Award to young visual artists. This prize, named after this Czech visual art critic and philosopher, consists of a financial reward, money to create an exhibition, and a scholarship in New York. Of course, winning the prize is a prestigious thing in the Czech world of arts.

Apart from your children, what else keeps you in #brnoregion?
I have a very strong relation with the Líšeň municipality, where I live, as well as with Brno, which I both love and hate. Some of my projects have been built up on this controversial relation and a key motivation for me.
Even when abroad, I simultaneously work on other projects in the Czech Republic or Brno because I'm convinced it's important to keep transforming this place. In comparison with other Czech towns and cities, I think Brno has changed and improved a lot in the last five or ten years. When I published Brnox, a lot of people from the municipal authority asked me to work on it further. This had never happened before.
Brno Bronx is the nickname of a part of the city lots of people avoid. It's full of neglected buildings, nonsensical writings, and mainly a large community of the Romanis. However, it contains unexpected treasures as well, and Kateřina Šedá together with her team spent several years collecting them for the BRNOX guide, a funny insight into this demonized Brno neighbourhood. A second part of this guide in form of a mobile app will be ready soon, and this neighbourhood will be revitalized.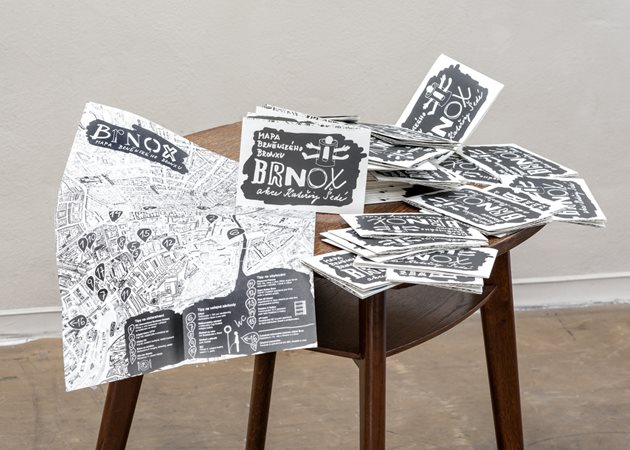 Interchangeable things are the worst
Which places in #brnoregion are the most beautiful?
Intentionally, I focus on total opposites. And it was only last year that my husband and I found it funny that we are attracted to places like the outskirts of Paris, Chernobyl or Brno Bronx – simply problematic places.
For example, I had always found the housing estate in Brno Líšeň rather repugnant and the last place on earth to go take a walk. However, since I did the For Every Dog a Different Master event there in 2007, I've grown to like it in a way. Not the houses, but the relationships at this specific place. I try to transform the things I don't like, and then I have a closer relationship with them. This transformation makes them more authentic and important, which is why I keep coming back to them.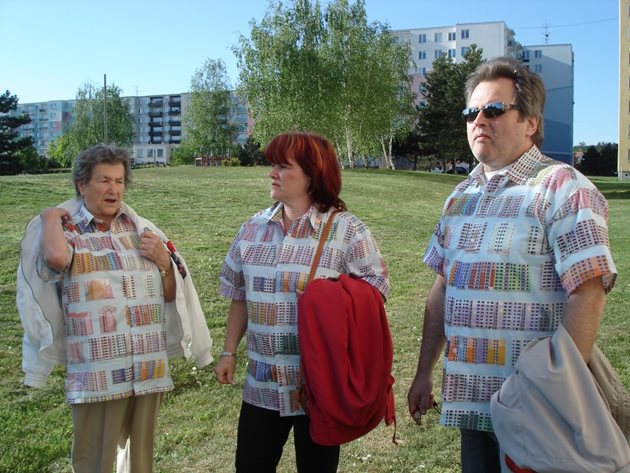 Since you're not so much interested in what places look like, what things do you think make them beautiful or ugly?
The beauty of a certain place lies mainly in well-working relationships. Not that I don't appreciate beautiful architecture and perfectly renovated public spaces, but what good are they when there's no public life there? Ideally, of course, these things should be well-balanced, and that's what I help achieve.
Interchangeable things are the worst, I think. For a long time now, I've been dealing in the decline of activities held in villages and peripheries. Only events copied from somewhere else and traditions are held there, with just a small number of new, authentic activities that you'd feel like leaving the city for. And that goes for the appearance as well. Villages had been given specific names related to what had been happening there. Today, it no longer matters whether you're here or twenty kilometres away. And this applies not only to Moravia.
The fact that in most villages identical events are held, that never change in time, is what scares me more than some new, absurd-looking square.
Sometimes I may not come up with anything
How do you come up with your projects? Is it that you first see a place and some of its inhabitants and then an idea occurs to you? Or is it vice versa – you think of a thing people could do, so you start looking for a place to do it?
First, I looked for a place and then for a problem there. Or rather, intuitively, I kind of sensed a problem and then chose a place related to it.
I can imagine how this is done in the Czech Republic, which you know. But how do you look for such places abroad?
Until about 2010, I used to choose places myself. Always. Once, I was even invited abroad to do the Ponětovice thing again in some German village, but I said it made no sense to me at all.
One of the first projects of Kateřina Šedá named There Is Nothing There shows that while it may seem nothing ever happens in villages, the very opposite is true. She handed over questionnaires to the inhabitants of Ponětovice, a small village with a population of around 390, to write down what they do during the day. She put the answers together and for one Saturday in May created a binding program and convinced all the locals to do the shopping at the same time, sweep the pavement, have lunch, have a beer together, and turn off the lights at the same time. "This simple game helped me show the people that something big may happen even in a small village; they just need to do things together."



Only in 2009 was I contacted to do some project in Uhyst, a village on the borders of Germany, Poland, and the Czech Republic. I said I pick places myself and wasn't sure I'd find this one interesting, so the curator said: "Just come over and take a look; we don't expect anything from you." Eventually, it seemed so interesting to me that – together with the local people – I helped form the spirit of the place. This was a crucial moment in my career which made me work "on demand". At the same time, however, I always warn people that I may not come up with anything.



















Everybody said it was stupid and laughed
Which project do you like to recall the most?
Perhaps the most important for me are my personal projects – with my late grandmas and my ex-husband. It's not about the outputs as such; it's about what I experienced with them during the project.

And that's also related to the fact that your work is your lifestyle, right?
Definitely. I always try to react to what I see, and that applies to my family as well. One of my grandmas died twelve years ago, the other last year. And it's the things that we did together that remains after them. Only these things speak about their lives, and I feel that they're still here with us. All this despite the fact that everybody laughed at how stupid these things were. When my parents read the book I had written together with my grandma, they sort of felt they never actually knew her. Unfortunately, our grandmas didn't talk to us very much, so the projects were my way to get to know them a bit better. With my ex-husband and my daughter, we tried to reconcile through an art project, so it was very important as well and we all like to recall it.
Her grandma Milada once told her great-granddaughter a fairy-tale story which didn't make much sense. So Kateřina asked grandma to tell her daughter about her life instead. Grandma then started to write a book named Normal Life, in which she described important moments of her life and gave her great-granddaughter advice on how to live a satisfied life.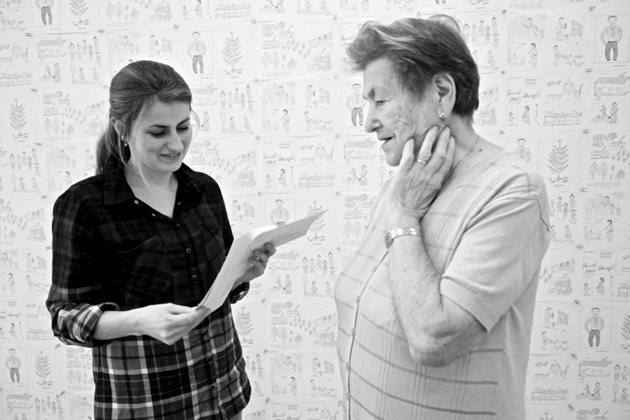 Read more about the topic
22. December 2022
What makes Christmas in #brnoregion special?
Christmas in the Czech Republic may seem the same as in lots of other countries. It's cold, the city is covered with colourful lights, a decorated Christmas tree, good food, gifts, and lots of meetups with friends and relatives. So what is so special about Czech Christmas then?