CEITEC Research Centre: where life sciences and nanotechnologies meet
CEITEC serves #brnoregion as a place where both basic and applied research is done and as one of its four centres of excellence. Since 2011, it is where a number of experts from over 40 countries have been dealing in life sciences and advanced technologies at elite levels.
Multidisciplinary centre with an international environment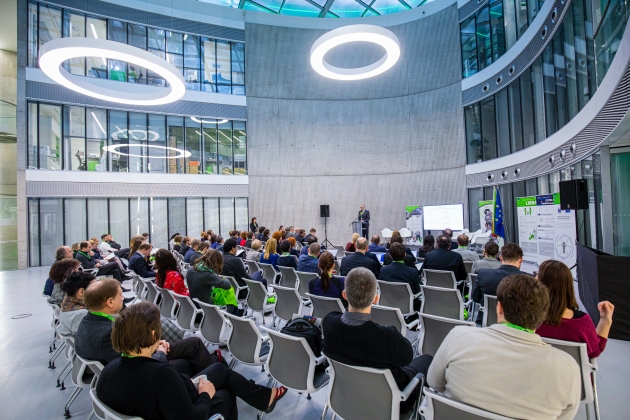 CEITEC (Central European Institute of Technology) was established by several Brno universities and research institutes with the support of the South Moravian Region and the city of Brno. This is the very first Czech centre to interconnect research and development in life sciences and advanced materials as well as technologies.
The following institutes are involved: Masaryk University, Brno University of Technology, Mendel University, University of Veterinary and Pharmaceutical Sciences, Institute of Physics of Materials of the Czech Academy of Sciences, and Veterinary Research Institute.
Currently, 62 research groups grouped in 7 research areas work in CEITEC:
Advanced nano and microtechnologies
Advanced materials
Structural biology
Genomics and proteomics of plant systems
Molecular medicine
Brain and mind research
Molecular veterinary medicine
In a single institute, biologists, doctors, chemists, technicians, physicists, veterinarians, and other specialists cooperate to conduct unique research.

"However, one of the main ideas of CEITEC is interdisciplinarity, so some of our research isn't restricted to natural or material sciences," adds Kateřina Vlková from CEITEC. As an example, she mentions the biomaterial research of Lucy Vojtová from Brno University of Technology (BUT) who, together with her group, has been developing hydrogels to treat burns or bone glue to treat comminuted fractures.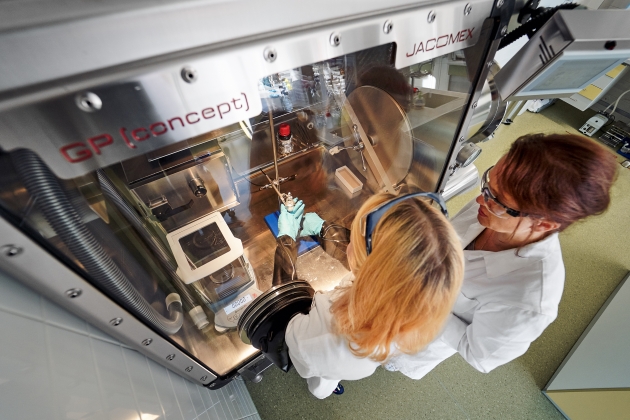 Prestigious European research
Five holders of prestigious ERC grants are currently doing research at CEITEC. These grants have been awarded since 2007 by the European Research Council, and every year only about 12% of the applicants from among leading European researchers receive them. The ERC-funded projects at CEITEC include:
Since 2013, structural biologist Pavel Plevka has been studying human picornaviruses, i.e. pathogens that cause a number of illnesses ranging from the common cold to life-threatening encephalitis. Currently, though, there are no antiviral drugs against this type of virus.
In 2015, biomolecular chemist Richard Štefl won a grant to study genomic dark matter. This somewhat exaggerated title refers to a non-coding RNA which is believed to cause a number of diseases, such as Alzheimer's or cancer. A better understanding of its mechanisms will help us prevent the diseases it leads to.
Imagine entering a waiting room through a special door and having the doctor instantly know everything about your internal organs before you even knock on the door. Thanks to the research by Petr Neugebauer, this amazing idea could one day be a reality. Since 2017, he and his 20-member team have been working on a revolutionary method called paramagnetic resonance.
And it was the very same year that biochemist Vojtěch Adam won a grant to research the metalothionein protein which bonds with metals. Adam believes that it's one of the keys to preventing resistance to metal-based medications when treating neoplastic diseases. Hopefully, this will make the treatment of these diseases even more efficient.
The latest as well as the youngest holder of an ERC grant is doctor and molecular biologist Marek Mráz. Together with his group, he's been focusing on the emergence and treatment of chronic lymphocit leukaemia, the most frequent type of leukaemia affecting adults.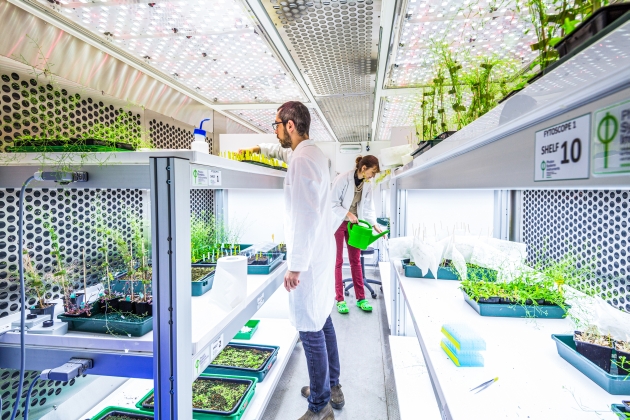 CEITEC in numbers:
676 scientific articles published (2019)
12 shared laboratories > users from 25 countries

Number of scientists:
- CEITEC MUNI: 298 (45% female scientists, 39% researchers from abroad)
- CEITEC BUT: 123 (28% female scientists, 18.4% researchers from abroad)

Number of PhD students:
- CEITEC MUNI: 280 (44% from abroad)
- CEITEC BUT: 115 (44.5% from abroad)
Unique and specialized devices for everybody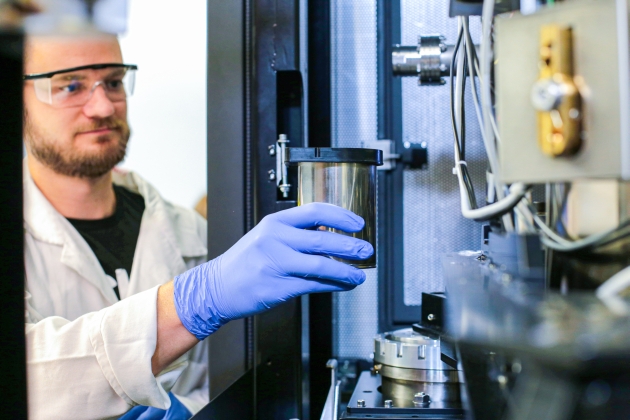 The greatest advantage of the research centre is its twelve shared labs equipped with modern, specialized instruments and devices even scientists from Western Europe admire. This fact places CEITEC at the very top in terms of managing research infrastructure.

"Our instruments can be used by anyone from bachelor program students to various companies and other contracting institutes as well. They've recently been used, for example, to analyse metal components for vehicles or screws for water turbines," adds Vlková. The labs come equipped with instruments as well as qualified personnel to help interpret results and are free to rent for virtually anybody from the academic world as well as any private company. This ensures the instruments are used efficiently, and gives researchers access to equipment that would otherwise be too expensive. In the shared CEITEC labs, you can do the following:
Measure a wide range of properties of nanomaterials;
Study the structure of individual particles at a cellular or even molecular level using cryo-electron microscopes;
Research the structure of molecules using NMR (nuclear magnetic resonance) spectroscopy;
Characterize complex proteins using proteomic analysis for various research areas;
And simulate environmental conditions and analyse plants.
Institute open to PhD students
CEITEC's doors are even open to students from all over the world. As part of the CEITEC PhD School international program started in 2014, these students can study Advanced Materials and Nanosciences or Life Sciences and Molecular Medicine. And, just like local researchers, their studies are supported by unique instruments as well as the interdisciplinary community.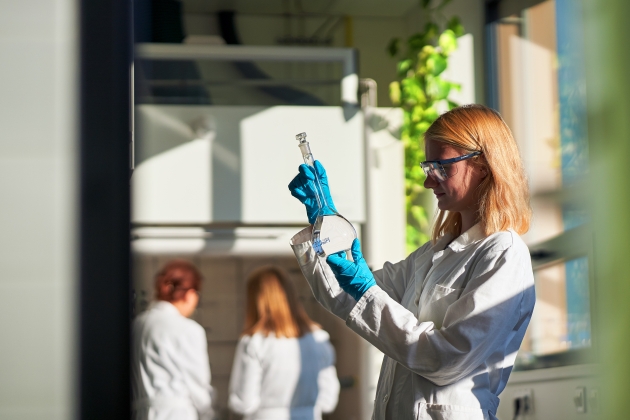 The ambitions of the PhD School at CEITEC are enormous, as its aim is to attract the most talented students of life sciences and train them to become the next generation of globally competitive scientists. That's why the PhD School is built on the principles of innovative postgraduate studies issued by the EU, i.e. excellent science, attractive institutional environment, opportunities for interdisciplinary research, cooperation with industries and potential employees, and gaining international experience and contacts.

"The huge number of applicants, which has increased tenfold in five years, shows how successful the CEITEC PhD School is," adds Nikola Kostlánová, scientific secretary at CEITEC MU.
Excellent people in top-level science
Approximately every third member of the scientific personnel at CEITEC comes from abroad, which is why people there mainly communicate in English. "This is a young institute, completely new and dynamic. There are lots of students as well as researchers from various countries here, with over 45 nationalities, which is quite incredible," describes Vlková.

Even when a lot of the groups cooperate with each other, CEITEC supports further cooperation between its employees through dozens of educational as well as social events for them and their families. "We organize what's called CEITEC Tea Time; we prepare some refreshments and the employees arrive, bringing their favourite mugs, and just chat. We have people from various parts of the world here, but they may not even meet when working, so we try to bring them together," explains Vlková. The postgraduate students at CEITEC also organize a two-day student conference and a quarterly pub quiz related to scientific topics.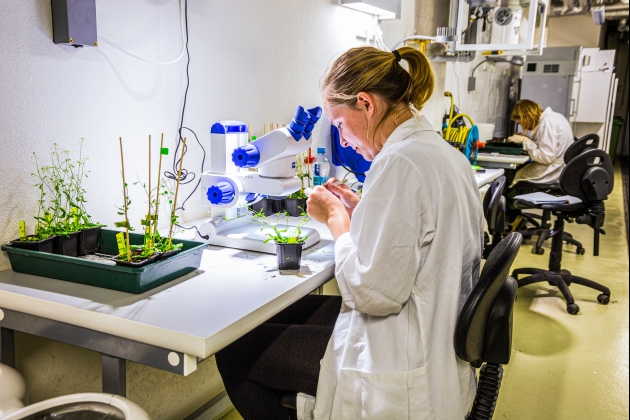 The workers at CEITEC are supported even when it comes to paperwork and applying for grants, and foreign employees receive help with any potential problems from the welcome office of the universities.
"It would be easier to list the groups we don't cooperate with. We organize joint events to get to know each other better, and we have a great bunch of people here," says Jan Macák, who is in charge of the Advanced Low-Dimensional Materials research group at CEITEC BUT.
Read more about the topic
21. September 2023
Jan Neuman: Only together can we make Brno the world center of electron microscopy
Every third electron microscope in the world is made in Brno. But what makes the South Moravian metropolis the mecca of the field is the whole ecosystem of collaborating organizations and people. How are they interconnected? And what do they do to nurture and attract new talent and top experts? Jan Neuman, CEO of
NenoVision
and initiator of the Regional Microscopy Platform, answered questions about electron microscopy's past and future in #brnoregion.