CF Plus Chemicals
He fell in love with chemistry as an eleven-year boy when he found a book named Experiments without Explosions in the library. Today, Václav Matoušek is in charge of CF Plus Chemicals, a company which has patented chemical compounds used for conducting chemical reactions previously considered impossible.
Graduate of a prestigious university
Once it became clear to Václav Matoušek that the world of chemistry was his place in life, he applied for the University of Chemistry and Technology Prague. Thanks to the Erasmus exchange program, he spent seven months at ETH Zürich, the seventh best university in the world. In addition to the regular seminars, he worked in laboratories and worked on catalysis research led by Dr. Pavel Kukula.

Even though his studies in Zurich were far from easy, Matoušek asked two local professors to let him return to ETH for his doctorate studies. "At the time, I was only a third-year student, so it may have seemed a bit premature, but it paid off," adds Matoušek.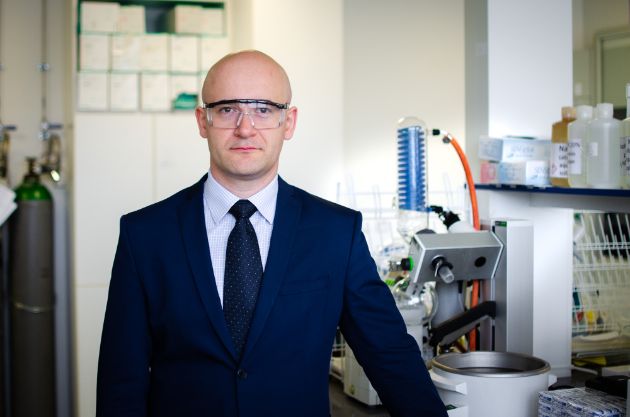 Surprising discovery
In 2009, Matoušek joined the team of Professor Antonio Togni who had discovered a unique compound a few years before. The discovery seemed to be more of an academic interest at first, so Togni only published it and did not seek a patent for the compound class. Gradually, though, scientific magazines all over the world published more and more articles describing it as a very useful tool.

Only several years later was this compound nicknamed Togni's reagent, which has become a commonly-used term ever since.
Togni's reagents are compounds based on hypervalent iodine, which behave like tools transferring fluorine groups. Fluorine has become a very sought-after tool, especially in pharmaceuticals, where it improves the effectiveness of drugs: "Thirty years ago, only around 5 % of drugs on the market contained fluorine, whereas today it's around 20 % and rising with each newly-registered drug. We've been seeing a huge increase in the use of fluorine in the design of new molecules to treat diseases," explains Matoušek.
"Matoušek-Beier-Togni reagents"
In 2010, when Matoušek was halfway through his studies at ETH, it was already apparent that Togni's reagents were highly useful tools. Once, while reading a chemistry magazine, an exciting idea occurred to him: "I came across an article by Dr. Petr Beier from the Czech Academy of Sciences; what he said in the article inspired me to join forces with him to create a brand new generation of Togni's reagents. Unlike the original ones, these would have a large structural variability. This would allow us to modify the character of the fluorinated groups, which is the main part of the entire molecule, effectively increasing the structural richness of the reagents."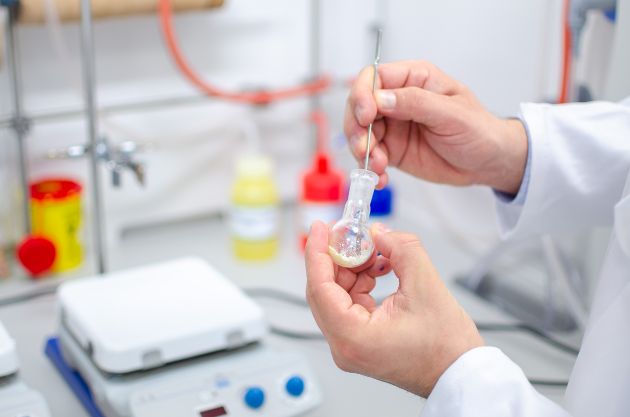 After several unsuccessful attempts, Matoušek and his Czech colleagues finally succeeded in isolating a small amount of something new. The following tests verified that he actually synthesized a second-generation Togni's reagent and thus opened the door to a brand new area in chemistry – to a set of available chemical structures that can be produced – and thus to new opportunities.
In 2014, ETH applied to patent second-generation Togni's reagents at the Swiss patent authority: "In 2010, there were already around a hundred publications describing the excellent usability of the first-generation reagents, so it was apparent that it would work in generation No. 2 as well," adds Matoušek. Together with filing the application, ETH suggested that Matoušek, as the main inventor, should participate in the process of commercialising the new technology.
Irresistible offer from #brnoregion
Despite being a chemist at heart, Matoušek eventually abandoned the original idea to continue his studies after obtaining his PhD. He decided to accept the challenge and cash in on his discovery: "It was an amazing opportunity to pass something I've invented on to the rest of the world." The only question was where and what for.

And an offer from Brno arrived at the right moment: "Jindra Weiss, one of my high-school classmates working at the South Moravian Innovation Centre at the time, suggested to me: 'Václav, come join us in Brno. You'll get a lab and will work with us'." Matoušek didn't have to think about it for long. True, he comes from South Bohemia, but #brnoregion is definitely closer to his home than Switzerland. ETH donated him some outdated equipment and with it he built up a small lab at the INBIT centre in Brno in 2014 and established CF Plus Chemicals.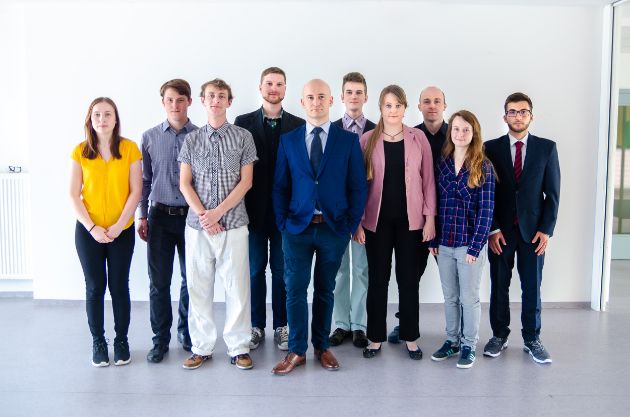 JIC INBIT is a biotechnology incubator in #brnoregion that helps deal with the lack of affordable space for innovation businesses in the region of South Moravia. Companies in the incubator are located close to the laboratories of Masaryk University and the University Hospital Brno as well, which facilitates their potential cooperation with research institutes.
Unique compounds for further research
As Matoušek established the company on his own, he had to learn a lot of things related to the lab equipment, purchasing chemicals, basic accounting, and later marketing and sales. He started to synthetize the first compounds in 2015 and his contacts from Switzerland helped him get his first orders. Things started out slowly, but suddenly an unknown customer from Austria appeared: "I still remember that intoxicating feeling. For me, it was proof that I could actually sell something," remembers Matoušek.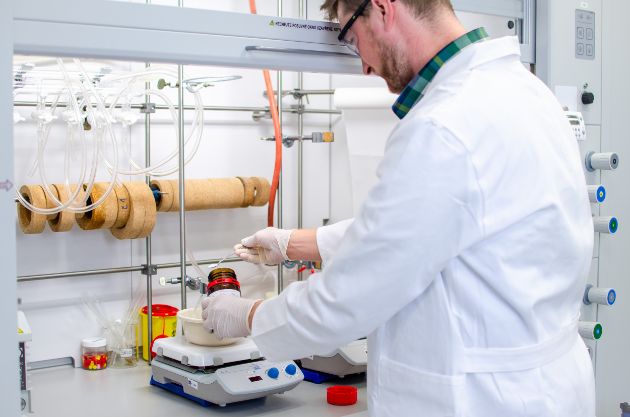 The name CF Plus Chemicals is based on CF2CF2 , which is a bond of carbon and fluorine and their connection to other molecules.
Currently, CF Plus Chemicals produces all the substances in its lab and production volumes do not exceed one kilogram because they are used mainly for research. If they turn out to be as efficient as Matoušek promises, that figure will increase quickly.
Expert on fluoroalkylation and bioconjugation
Currently, CF Plus Chemicals sells its substances primarily to pharmaceutical companies and academic laboratories that create and test new types of small molecules. These were previously quite difficult to prepare and Matoušek's reagents save them a lot of time.

What's more important for Matoušek is the production of reagents for the discovery and development of large molecule-based drugs, especially protein drugs. They either serve for preparation of protein conjugates, compounds where proteins are chemically connected with other functional substances (i.e. toxins or radioactive compounds to kill cancer cells, fluorescent dyes for imaging, etc.) or they can be used to effectively study the structure of the proteins. In the future, this will make protein drugs more efficient when fighting chronic diseases, such as cancer and diabetes.
Drugs are divided into two abstract categories. The drugs made of small molecules are historically older and usually put into tablets, ointments, suppositories or inhalers. Since the 1960s, drugs based on proteins, also called large molecules, have been entering the market. The most well-known is perhaps insulin, but lately modern targeted drugs based on antibodies and their conjugates have been used more frequently, mainly in oncology. And oncology is one of the main areas into which Matoušek would like to move with his technology.
This way, CF Plus Chemicals could help resolve a number of the challenges pharmaceutical and biopharmaceutical companies face, as Matoušek can both propose a solution and give advice on what works. "Even though our reagents are new and still relatively unknown, it's my task to convince pharmaceutical companies that they work perfectly, quickly, and reliably and that they can be used to prepare new, previously inaccessible molecules or enable technologies that used to be impossible," explains Matoušek.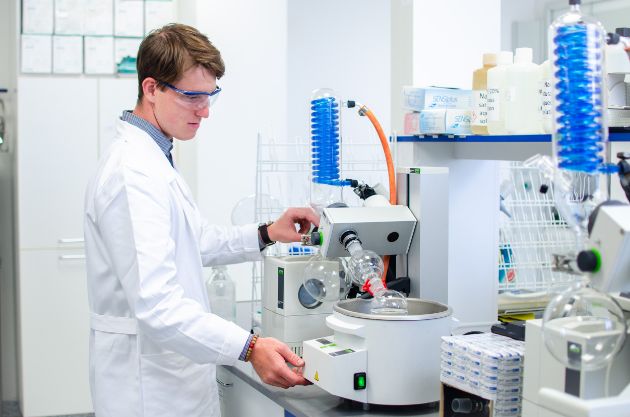 The aim is to divide the company into two segments – one focusing on the production of reagents and building blocks for synthesis of small molecule drug candidates, and the other dealing with large molecule bioconjugation through license agreements: "For the segment of small molecules, I'd like to have a portfolio of five hundred to one thousand substances. In addition, I've prepared a concept of around five to ten second generation Togni's reagents whose reactivity can be adjusted and which will be amenable to large scale synthesis, being able to serve the needs of the large molecule bioconjugation segment," says Matoušek about his plans for the future.
"If one day some of the drugs containing the —CF2CF2— group from the Togni's reagent appear in the top 200 best-selling drugs, that will be the greatest satisfaction for professor Togni and myself. Once we see that, for example, the twelfth best-selling substance comes from this original idea, our lives as chemists will be complete."
Read more about the topic
27. October 2023
Circular projects in #brnoregion
Sending garbage to other countries and a growing volume of dangerous waste at dumps on one side, a crippling lack of raw materials on the other. An elegant solution? A circular economy in which garbage is a resource and which avoids creating it in the first place. Here's a look at several such circular projects from #brnoregion.