FabLab – a place to bring your ideas to life
In 2017, the Brno FabLab joined a global network of open workshops as the first registered workshop in the Czech Republic. In just three years, while still successfully running the workshop, the team also created the best mobile FabLab in the world. Now there are plans for a FabLab university for students as well as teachers, and the team is organizing a FabLab conference in 2024.
The idea for FabLab shared workshops was born at the beginning of this millennium at the Massachusetts Institute of Technology (MIT) in its How to Make (Almost) Anything course. It soon spread beyond the borders of the US and today you are free to try out modern production and prototyping devices in over one thousand of its workshops around the world. And FabLab Brno at JIC ranks among the best of them.

The original idea of FabLab (Fabrication Laboratory) was conceived by renowned inventor and scientist Professor Neil Gershenfeld at the MIT. His idea was a simple one: to provide the environment, skills, advanced materials, and technology to make things cheaply and quickly anywhere in the world, and to make this available on a local basis to entrepreneurs, students, artists, small businesses, and, in fact, anyone who wants to create something new or bespoke.
First in the country

Even though FabLab is more about cooperating than competing, we are proud to have been the first in the Czech Republic. "We were the first FabLab established in the country, so we had no one to ask when setting up our machines, daily operations, or our marketing. We were trailblazers, though, and today lots of people, including numerous visitors from abroad, come to us for inspiration," explains Tomáš Mejzlík, FabLab coordinator.

FabLab open workshops all over the world offer similar equipment, including 3D printers, laser cutters, cutting plotters, CNC machines, electrical workshops, and more. Also, each workshop must be at least partially open to the public.

The Fablab in Brno was opened in 2017 to support business programs operated by JIC and attract not only software developers but more hardware start-ups as well. Today, only 10% of its members are private companies, but the premises of Brno FabLab are seldom empty, as students, freelancers as well as the public come to use its equipment.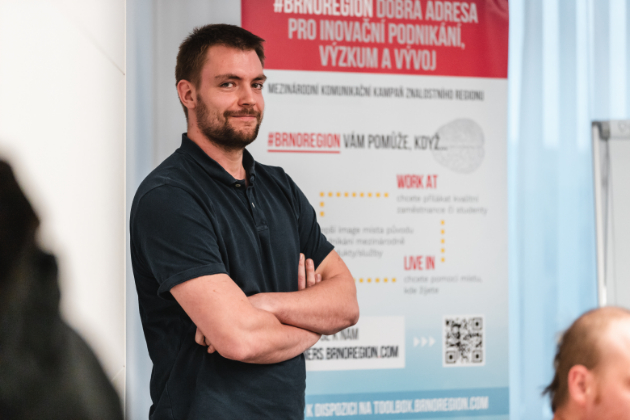 FabLab members first receive training for each machine they wish to use and then are able to freely book the machines to work on their projects. For expert makers, the workshop is open 24/7.

So far, FabLab has helped materialize ideas from a lot of start-ups:
Thanks to 3Dsets, it's now easier to manufacture a remote-controlled car than ever before. Simply purchase the data to print the car on a 3D printer, attach commonly available electronic devices, and off you go!
You may have noticed that we like to play in #brnoregion...Take Boardcubator, for example. Some of its many board games were produced in our FabLab.
And let's not forget about Matelab, a home chemical lab for the whole family; some of its components were prototyped in FabLab as well!
A unique FabLab on wheels
In a mere three years, the FabLab team has done a lot of work indeed. In 2019, a mobile FabLab Experience workshop was created, and one year later the team expanded into the newly-opened Czechitas House as well, opening a special area for both existing as well as new members of FabLab.

And it's this FabLab Experience that Neil Gershenfeld himself called the best mobile FabLab he'd ever seen. "There are mobile FabLabs already, even if a bit smaller ones, such as vans or trailers, that sort of serve just for transporting the devices and machines. Our FabLab is a workshop as well as a classroom," adds Mejzlík.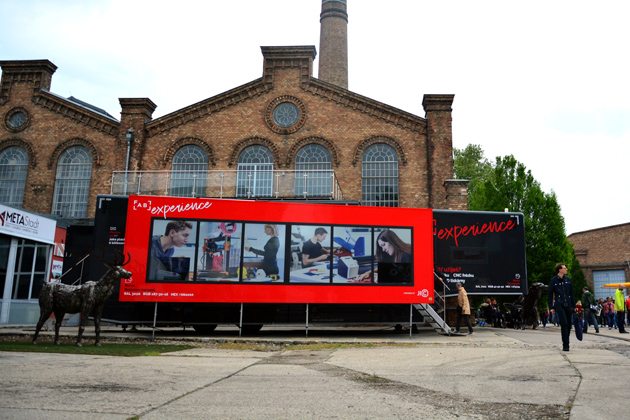 The mobile lab was created in cooperation with the city of Brno, the South Moravian Region, and founders of elementary and high schools in the region to support education using new technologies. "After our FabLab was opened in April 2017, we started to receive emails from schools that wanted to bring their students to our workshop. We didn't want to block the whole place for schools only, so we came up with the idea of the mobile workshop," remembers Mejzlík.

That's why a specially modified trailer with a telescopic wall and a fully-equipped laboratory rides the roads of #brnoregion, and its trained team introduces production technologies to young people.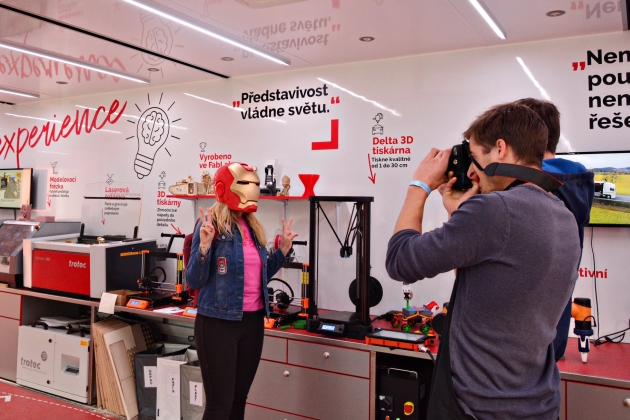 For students and teachers excited by these technologies, there will soon be a FabLab University. The students who have tried out the technologies in the mobile lab will have an opportunity to continue working with them through competitions and other activities, while teachers will gain a lot of advice on how to incorporate technologies when teaching their subjects, such as physics or even English.
All you makers, come to Brno!

Every year, the FabLabs from all over the world get together. And where? It's Canada in 2021, then Bhutan, Mexico, and – finally – in 2024, the FABx conference will be held in the Czech Republic!

FAB2024 in the Czech Republic is organized by FabLab Brno and Make More, an organization dealing in the development of the Maker Movement in the Czech Republic. However, there are countless other supporters, such as various ministries, private as well as public institutions, and companies.

The country to organize this spectacular event is chosen four years ahead to provide it with enough time for preparations. "It's much more than a week-long conference; it's a four-year strategy for the development of the maker movement on the national level. In our team, we started to call it the Olympics, as it's a prestigious event which resonates throughout the whole country," says Mejzlík, adding that in the years to come they'd like to establish a national association of open workshops and support the establishment of other FabLabs. "We'd like to make our plans parts of various national strategies, such as the strategy of the Ministry of Culture for the development of creative industries and centres or the strategy of the Ministry of Industry through a new subject named People and Technologies, taught at schools," adds Mejzlík.

However, some activities will take place in Eastern and South-Eastern Europe as well, with the aim of stimulating local maker communities. In the Czech Republic, you can now go to three registered FabLabs (in Brno, Prague, and Liberec) as well as twenty other open workshops, dedicated also to crafts or sewing. The aim of these Czech makers, however, is to support the establishment of another twenty workshops by 2024, ideally FabLab workshops.

In Europe, the FabLab Conference has taken place only in France, Spain, and the Netherlands so far. The Czech Republic will thus become only the fourth European country to succeed among candidates from all over the world. See you in 2024 then!
Read more about the topic