From #brnoregion into space. And back
#brnoregion has had a great influence on the relationship between the Czechia and the rest of the universe. And it still holds true to this day.
In March 1978, Vladimír Remek headed into space. Thanks to him, the Czech Republic became only the third country to have launched their own cosmonaut into outer space in the history of mankind. Vladimír Remek has always been known for his love of Brno.
As an inquiring child, he attended the astronomy club at Kraví Hora, as a student pilot, he took his maiden flight in Mig 21 based near the city, and in later life he became a proud patron of the Brno Observatory and Planetarium which he helped to get reopened.
Simply put – #brnoregion has had a great influence on the relationship between the Czechia and the rest of the universe. And it still holds true to this day.
58,000 command lines of magnitude
One of the most significant Czech contemporary mathematicians, professor Miloslav Druckmüller (from Brno University of Technology), along with his team and the help of self-programmed software (which currently contains 58,000 command lines!), studies the Sun and its corona. He uses its eclipse (so far, he has made nine attempts to undertake this technically demanding expedition) and unique mathematical methodologies, the outcomes of which have never before been achieved in the whole world.
"There are a few mysteries concerning the Sun's corona that we haven't been able to explain for a long time. Research has been carried out over a period of 80 years and we still have things to do. We're the only researchers in the world conducting experiments with regards to the observation of prohibitive lines of iron, nickel, and argon," says Miloslav Druckmüller about his team's specific expertise.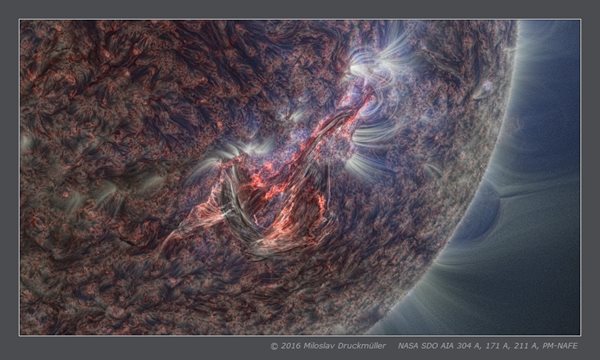 In turn, his colleagues at the Faculty of Electrical Engineering (led by Lukáš Fujcik) are working on the design and development of space applications and electronics for satellites. The aim of the project they're working on is to measure and analyse gravitational waves, something Albert Einstein predicted the existence oo - long time ago.
The list of academic projects includes the development of engines for rockets as overseen by professor Hlinka, as well as a variety of other projects, but this would neglect the important role the business sector plays!
Mars. And Jupiter
Frentech Aerospace, one of region's space industry powerhouses, recently captured everyone's attention when it won the Vodafone competition, Company of the Year 2017. The company lists airplane and space shuttle components among its product range and appears to be very successful.
Their modules have landed on Mars (they are involved in the ExoMars 2016 and 2020 projects) and their subsystems will soon embark on a journey to Jupiter.
Honeywell Aerospace has earned its place among the stars in the sky too. Its products can be found in all areas of transport and military aviation. In addition, its technologies in the fields of intelligent automation and control systems are essential for the impeccable work of aerospace research teams. If you are looking for a different kind of technology, you may come across BD SENSORS which specializes in electronic pressure measurement. Even on a worldwide scale, it is an innovative and promising supplier of digital pressure gauges for industrial applications.
ESA BIC, welcome to #brnoregion!
In the future, it is crystal clear that #brnoregion will become ever more closely associated with space research. The reason for this is the yesterday opened technologically progressive start-up business incubator, ESA BIC. The incubator seeks to support companies which implement space technologies and systems into their products. Its task is to help launch up to nine start-ups in the coming three-year period and to support them in becoming the new stars of the space industry. It will provide consultancy and advisory services in the fields of technology and business. Good luck, guys!
Read more about the topic
22. April 2022
Brno hospitals receive over 820,000 EUR for their Covid-19 research
Brno University Hospital and St. Anne's University Hospital have won a grant for several projects dealing in the research of covid-19. They are searching for preconditions for serious symptoms, the role of immunity in myocardium damage, and diagnostics of superinfections for ventilated patients.