Jiří Očadlík
"If people don't come together, new quality will never be created"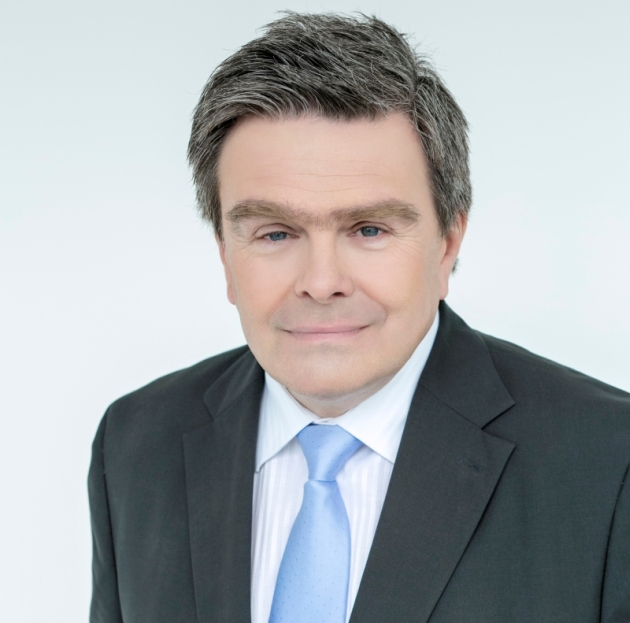 Top manager and one of the leading Czech experts on electron microscopy who spent 24 successful years in charge of FEI (today's Thermo Fisher Scientific), the Brno branch of the largest producer of electron microscopes in the world. This should be enough to receive a round of applause, but there's another reason why Jiří Očadlík is important for Brno! Together with Markéta Janková, a marketer who was one of his colleagues at the time, they created Days of Electron Microscopy. This event aims to introduce people to the amazing world of electron microscopy, and this year it takes place on March 6–10.
How it all began
It was Markéta Janková who came up with this idea some four or five years ago. "We knew how important electron microscopy was for Brno, even from a global standpoint, so we wanted to bring it closer to the general public," says Jiří Očadlík. However, he quickly adds that this wasn't the only reason for the Days of Electron Microscopy. FEI, which he was in charge of at the time, was having difficulties hiring new employees, so they needed to make this discipline more attractive for young talents considering future jobs.
"I used to say that I'd only be satisfied when every grandmother – upon learning that her grandson works for FEI – would automatically say that that's a good thing. Despite all our achievements in the industry, we were unknown among the general public, so we started to search for ways to change that. To make people aware of electron microscopes. And Days of Electron Microscopy was one of the things we came up with."
Jiří Očadlík studied physical electronics at the Faculty of Mathematics and Physics at Charles University in Prague. After graduation he joined the team of Armin Delong, one of the founders of Czechoslovakian electron microscopy, and it was at Delong's recommendation that he was accepted into the Institute of Scientific Instruments where he contributed to the development and improvement of electron lithographs and microscopes.




He used to work as a researcher in this Brno institute and then worked on managerial positions for Tesla Brno, s.p., Tesla Elmi, a.s., Delmi s.r.o., and Philips Electron Optics Česká republika s.r.o. For 24 years, he worked continuously as a managing and executive director at the Brno branch of American company FEI Czech Republic s.r.o. (today's Thermo Fisher Scientific). He also worked for CEITEC VUT in Brno as a vice-director for innovation strategy.
Once they agreed on what they wanted to accomplish, they started looking for support.
"It took around two years to get the first results. We contacted the city of Brno, then JIC, spent some time negotiating the way forward. As a company, our resources to attract people to events like this were very limited, so we wanted to connect with some experienced institutions that can organize such events."
Of course, the public sector wasn't the only place to start this conversation: "There were long debates with our competitors, as each company has different priorities. This is only natural, and it took us some time to find common ground." When asked if they had thought about doing it alone if the negotiations had failed, his answer was clear: "Only in an extreme case. And only if we saw that others would join us once the event proved to be a success. Or we could have turned it into a company event with no external support. However, I always believed we'd pull it off together eventually."
Modesty and invention in balance
Even though he left the electron microscopy industry some time ago, he's been following it anyway. "Electron microscopy is still my passion," he says. When asked what we can expect from this industry in the near future, he just smiles: "I don't even try to guess. I'd be very rich if I knew. The marketing trends we see now suggest it's all about speed. About exploring 3D objects while generating enormous volumes of data, and the ability to actually understand this data and to reconstruct it are what we are paying attention to. Typically for biological applications, among other things." And concerning the classic issue of research versus business, Očadlík offers another clear opinion:
"You can't go on producing instruments with no respect for what the customers want. On the other hand, however, if you only ask people what they want, all you'll ever create is just a better version of what they already have. You have to be looking for a balance between some revolutionary thing which brings new quality without pretending to know best what the customers want and should use. Being inventive while remaining humble are absolutely crucial here."
Those looking to succeed in electron microscopy need to be technically perceptive. Also, they should be good at mathematics, as it's the very basis of technical sciences and crucial for technical as well as logical thinking. Then they should be manually skilful and like to observe nature. What's absolutely crucial is to be able to work in a team, as most people need to focus on team cooperation.

"When I was in charge of the company, I tried to have the people willing and ready to help each other. Nobody could ever grow there just because they were the only ones to have the information, because if that person really was the only one, then the entire company would have a problem, which is too risky."
The Days of Electron Microscopy 2019
Last year he missed the Days of Electron Microscopy, as he was abroad, but this year he's going to attend. "I'd be happy if this event was attended by those to whom it should serve. And I think it should serve, for example, to universities and the Academy of Sciences. I'd like the people from our industry to connect, form a cluster, and even start to discuss which seminars are offered to the students and if they should be taught what this job market is really looking for. On the other hand, it would be nice if the university sites and their top research teams prepared more top-quality experts and the companies were able to assist. To create a kind of cooperating cluster." However, he knows very well that it's a long journey. "I believe that we'll succeed eventually, because if people don't come together, new quality will never be created."
Read more about the topic
19. April 2023
Robots, made in #brnoregion:  BRUKER automates microbiology for personalized medicine
In our "Robots, Made in #brnoregion" series, we introduce companies developing smart solutions for automation. As the Bruker brand shows, the usefulness of automation extends far beyond manufacturing companies – it can even make processes in microbiology laboratories simpler and less susceptible to human error. And the result? A simpler process of identifying microorganisms and preparing references for diagnostics and treatment of patients.
12. April 2023
The latest data show that #brnoregion is among the European leaders in terms of innovation support
According to the latest data, a total of €856 million went into research and development in the South Moravian Region. This is 3.2% of the regional GDP, which means the highest share of the whole Czech Republic. Such support for innovation is contributed to not only by universities and public research institutions, but above all by companies that focus on research and development. This results from the
2023 Data report
on science, research, innovation and entrepreneurship in South Moravia.