Ajala chocolate: Just don't mess it up!
The story of the acclaimed AJALA chocolate factory from Brno
When a friend returned from his travels, bringing genuine chocolate from the natives in Guatemala, Filip Teplý had no idea how much this gift would change his life. A successful, yet not too happy co-owner of a graphical design studio, Filip experienced his "ajala", which is the Mayan word for "awakening", which completely redirected his career path: He became the producer of one of the most visible brands of quality chocolate (not only) in the Czech Republic. And, quite fittingly, he named it Ajala.

After this awakening, Filip became totally absorbed in studying chocolate. Spending his days at his regular job, he devoted his nights to reading technical literature on chocolate. Among the many facts he absorbed was that during the interwar period, Czechoslovakia was the third biggest processor of cocoa beans in the world. And it was then that he made a serious decision to continue in this tradition and try to produce a modern version of true Mayan chocolate by combining traditional methods with modern procedures to get the best possible result. This kind of chocolate is called Bean to Bar.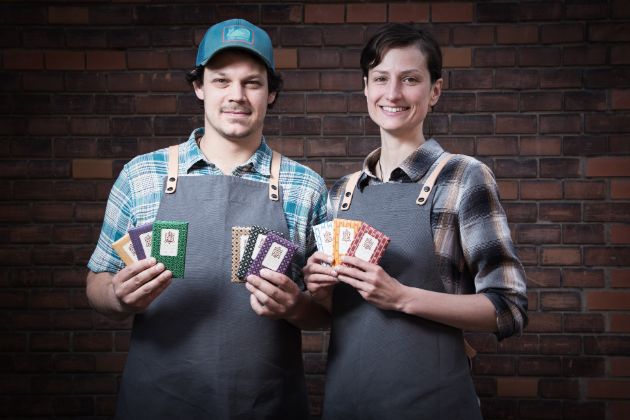 More than just chocolate
And it seems his fated decision came at just the right time. When the production at Ajala was beginning, it was impossible to get genuine chocolate anywhere in Europe, to say nothing of the Czech Republic. In America, there was a (quite recent) community through which it was possible to get to the most important source – high-quality cocoa beans. And Filip Teplý visited his future suppliers in person, as good relations with them as well as a responsible and sustainable approach to nature are a priority for Ajala. "It's important for us that the cocoa beans grow in the original area where they have always been grown. Premium cocoa grows in the shade of tall trees, so no rainforests need to be cut down. We buy the cocoa for a better price, so the quality of life of farmers improves and they are further motivated to take better care of the cocoa trees," explains Filip Teplý.
Less is more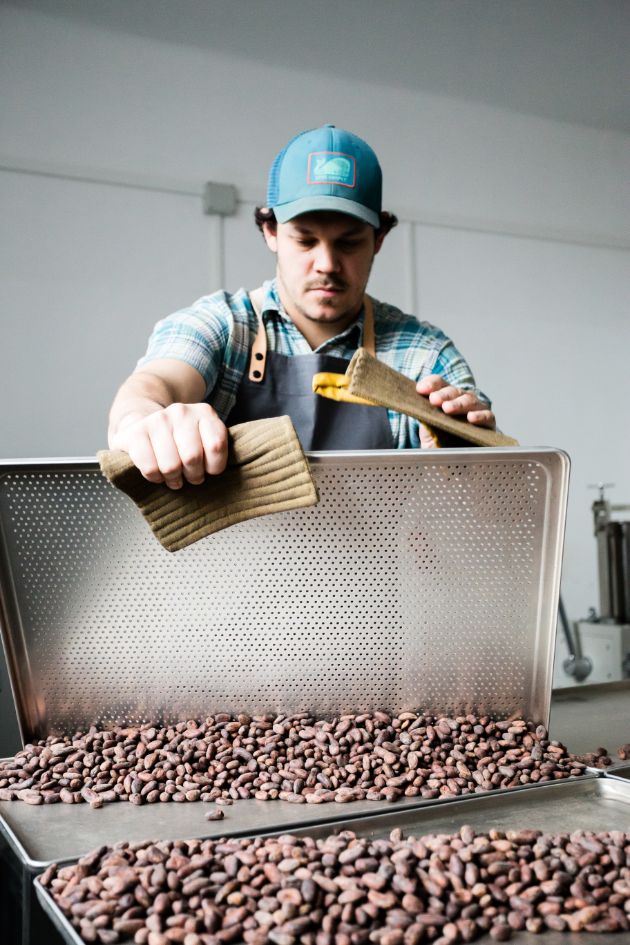 High-quality cocoa beans cost up to five times more than what's called community cocoa, which is purchased by globally renowned chocolate factories. And bean quality is directly responsible for the resulting taste. These two approaches totally differ, of course: while regular huge producers aim at unifying the taste for the customers to find the very same thing in their purple/blue/golden/any packages, Ajala does the very opposite and puts emphasis on the difference and excellence of the taste of its cocoa beans. And that's why it doesn't need to ruin it by adding unnecessary flavouring or additives. It seems less is more, even when it comes to making chocolate. And Ajala chocolate consists of only two materials: cocoa beans and dried sugarcane juice called panela.

Once Ajala found the high-quality material, it "only" had to come up with the best procedure possible. "After about six months of studying, we ordered a small machine which simulated large production, and tried out the very first test batches. Then we kept testing our products and collecting feedback from people for about a year," Filip Teplý reflects on how it all started. Then the first real orders arrived.
Every extra hour spent pays off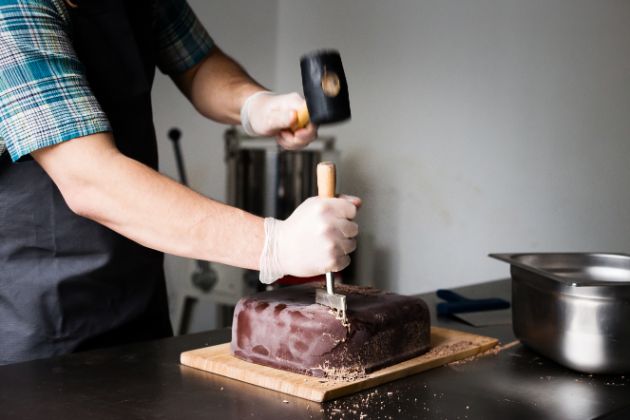 And while big chocolate producers churn out tons of cheap chocolate of a more or less unified taste for supermarkets all over the world, Ajala takes its time. "It takes around nine days to produce a single bar. That's a lot of time, but every extra hour spent pays off," smiles Filip Teplý. "Usual supermarket chocolate is sneaky: it never fully satisfies you, so you want more and more and easily finish it all at once. Our chocolate keeps your gustatory and olfactory cells busy. It makes you think. Just like with wine, you can find a lot of surprising tones in it, which is why even a single bar provides a lot of enjoyment," adds Filip.
Did you know that high-quality chocolate is a bit like brown broccoli? Not only is it also on the list of superfoods but, unlike the not-exactly-loved vegetable, you won't have to plug your nose when eating it. And here's a few mantras to clear your conscience. Quality chocolate:

Helps lose weight
Lowers blood pressure as well as cholesterol
Fights tooth decay
Supplies antibacterials thanks to its cocoa beans
Reduces the risk of cancer
Improves your mood, as it raises the level of serotonin in the brain.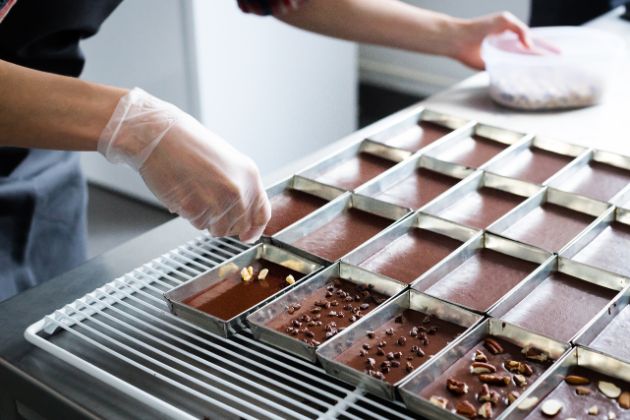 After the manual sorting, which makes the Ajala crew feel like Cinderella (the best of the best beans will be used, while the rest is mercilessly thrown out), it's finally time to start production. This process looks a lot like a wellness spa, as each cocoa bean gets very special treatment at Ajala. First, the beans are roasted and then crushed and winnowed to produce cocoa nibs. The nibs then go into a granite mill and get ground. This is a pretty demanding process for the chocolate, so the producers let it rest for a while in a phase called ageing. This is followed by tempering (heating and cooling) to unify the crystalline structure of the cocoa butter. This shiny and crispy beauty then gets a dress befitting such a brown noblewoman. The design of the chocolate packages in Ajala is based on historical motifs used in the interwar period when, as already mentioned, Czechoslovakia placed third on the list of producers of cocoa beans. And behold, addiction love is born!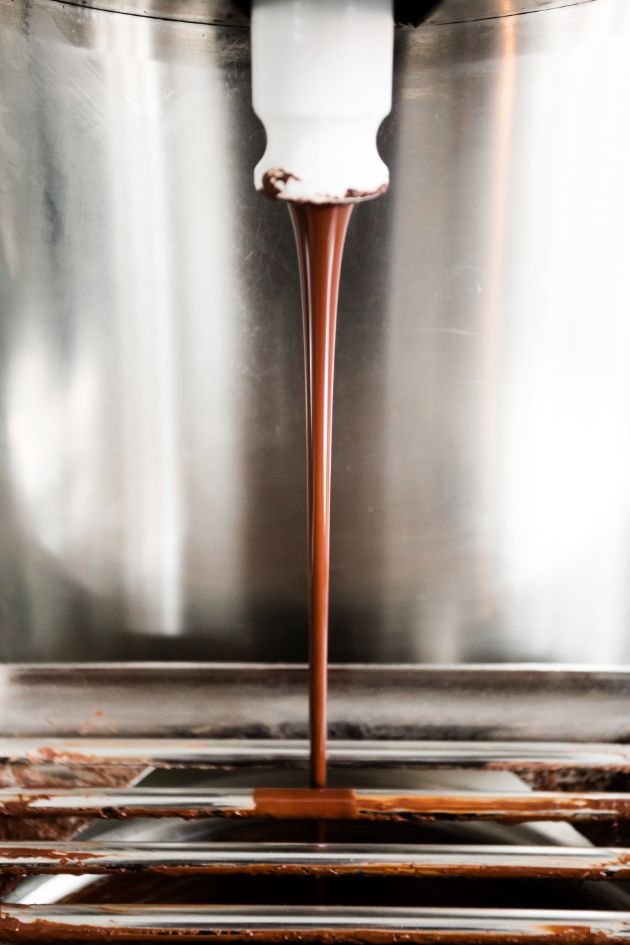 Prior to WW1, there were 40 chocolate factories in Austria–Hungary. And even if the collapse of the monarchy automatically cut down its selling market, Czechoslovakia soon became one of the most industrialized countries in the world. However, the chocolate and sweets industry had to wait for two years for a ban on cocoa bean imports to be lifted. And even though the path to global fame was rather complex, massive amounts of cocoa beans were processed in Czechoslovakia. In terms of its quality and amounts, the Czechoslovakian market proudly equalled the one in better-known Switzerland.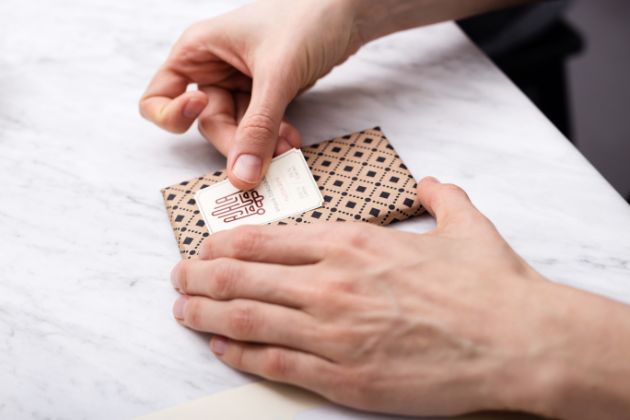 And if there was any question of Ajala making the right choice to do business this way, the three medals it won at the prestigious European Bean To Bar Awards leave little room for doubt. Remaining more than modest, the Ajala crew say that this was all possible thanks to the excellent raw material they use. "If you choose high-quality beans, the only thing you need to do is not mess up during production," says Filip Teplý.

Ajala was one of the first companies in the Czech Republic to deal in the manual production of Bean to Bar chocolate. As consumers discovered it, a strong demand for top-quality chocolate emerged and other producers joined the market, as well. Antonín Branč spent several months working in Grenada to learn the production process and then brought his knowledge to Brno where he established Chocolate Hill. Another family company, Herůfek Chocolate, based in the local wine-making region decided to journey down the path of chocolate, and the imaginary quartet is completed by Čokoládovna Janek – Uherský Brod.
Read more about the topic
22. December 2022
What makes Christmas in #brnoregion special?
Christmas in the Czech Republic may seem the same as in lots of other countries. It's cold, the city is covered with colourful lights, a decorated Christmas tree, good food, gifts, and lots of meetups with friends and relatives. So what is so special about Czech Christmas then?