LD Seating: local business with a global impact
From a simple need to get a child's chair decorated with dinosaurs to establishing a globally renowned company.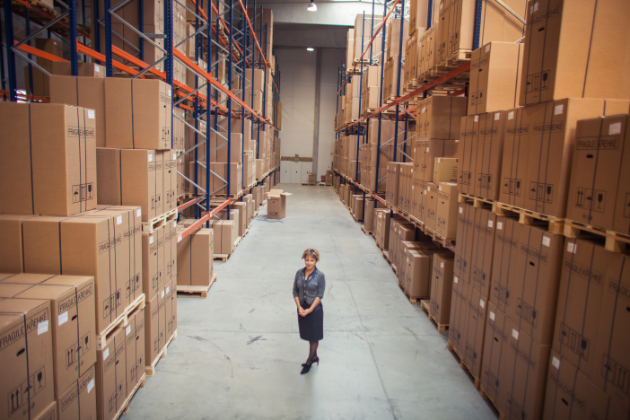 In the beginning there was a children's chair, embellished with dinosaurs. Actually, there wasn't. In socialist Czechoslovakia, constantly empty shop shelves meant a chair like that was impossible to get—a situation that persisted even years after the Velvet Revolution. Still, who wouldn't want to make their child happy, right? And that need to please local kids slowly turned into something global, as it led to the founding of LD Seating which proves every day that coming from a small region doesn't prevent anyone from accomplishing great things.

In 1993, Jitka Hurábová found the ideal place for LD Seating in Boskovice, and it turned out to be the best possible fit. The combination of a small town full of highly qualified people and the company's founder's diligence has been pushing LD Seating forward for 27 years now. It's been producing and selling office furniture all over the world. Among others, the company's products are enjoyed by the members of Angolan parliament, Czech ambassador to the UK and bankers in Mongolia, Dubai, Kuwait, Kazakhstan, and other countries. We promised a story, though, so let's get back to the very beginning.
It all started with a dinosaur
The collapse of the Communist regime in 1989 provided the nudge that many Czechs needed to dive into business. And Jitka Hurábová, then a mother of a six-year-old son, was among them. After receiving a degree in economics, she suddenly and unexpectedly found herself in the world of chairs. How come? Well, her son, a passionate dinosaur fan, desperately needed a picture of this Mesozoic animal on his swivel chair, and Jitka Hurábová, being a loving mom, wanted to make him happy and get the chair for him. And that's when she met her future business partner, made a deal with him (and got the dinosaur chair, of course), and soon they started their first business together, importing chairs into a Czechoslovakia that was starving for any Western goods from Italy, the Mecca of design.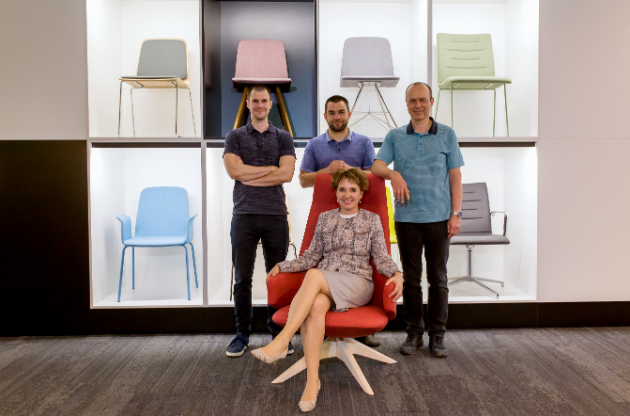 It took two years of monitoring, exploring and – mainly – testing the imported chairs before Jitka Hurábová dared to move on and start, as she puts it, the very first primitive kind of production. "The beginning was kind of crazy; at the time, there was no Internet, obviously, so we had to visit our suppliers' factories and manually copy the information about where to buy components from their shipping boxes. In a village near Boskovice, we rented a cinema where we started assembling the first products," remembers the founder of the company with a smile. However, production wasn't her business partner's dream, so he left the company and Jitka remained to wave the LD Seating banner on her own.
Experienced craftsmen as a precious legacy of the Communist era
She wasn't left completely on her own, though. The socialist regime left a precious legacy in Boskovice—the top Kras factory and its highly-qualified employees. These tailors had spent over half a century working on high-end custom men's suits that were exported all over the world. After the revolution and the privatization that ensued, though, Kras's workforce began to dwindle until the company ultimately announced bankruptcy in 2007. And the same happened with the traditional production of furniture in Boskovice.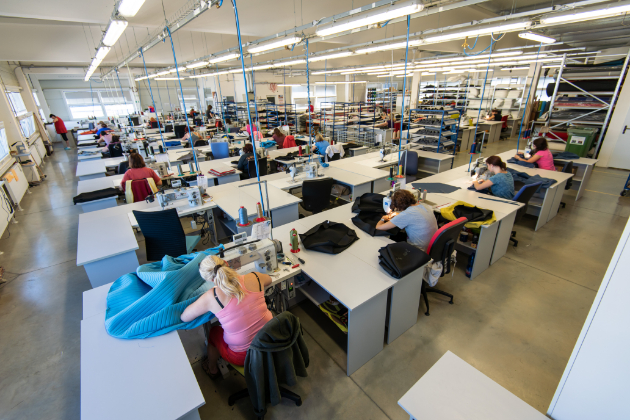 This provided Hurábová with the opportunity to gradually hire the employees that had been made redundant, despite being top seamstresses as well as experienced upholsterers. Today, the company's 150 employees produce around 10 thousand chairs and armchairs every month, with over half destined for export. And large orders pour in from various institutions all over the world. "We've been doing our best to uphold the historic traditions of this region while we adapt them to meet current demands. We consider this our mission. In Prague, where I was born, I would never have had a chance to build a company half this good, as I would have never found people this qualified there," says Hurábová when asked whether she's ever been tempted to move the company from this small region to a more bustling location, perhaps in a big or even capital city, or directly abroad.
LD Seating was established in 1993 in Boskovice and remains there to this day. It's the most significant Czech producer of chairs for offices, meeting rooms and conference rooms, and it's among the leading producers of chairs and related furniture in all of Central Europe. Every month, its employees produce around 10 thousand chairs and armchairs, out of which over a half (55%) is exported all over the world. How did the company become so successful? Apart from being committed to honest craftsmanship, its founder Jitka Hurábová gives credit to the elaborate digital ordering system the company uses to consistently meet production deadlines and deliveries.
Greener chairs, armchairs, and a lot more
Starting from scratch, Jitka Hurábová worked hard to build a big company one step (and employee) at a time. Over time, she began cooperating with designers to produce her own chairs. Recently, a paint shop, metalworking shop and – together with an Italian business partner – its own production line for foam polyurethanes have been added. By doing this, in just one year, the company was able to save roughly 40 thousand euro on transporting the goods from Italy, to say nothing of countless cubic metres of CO2. Environmental concerns are a major focus for LD Seating. "Let's manufacture everything we can here, using available technology, to avoid traveling across half the world," urges Jitka Hurábová.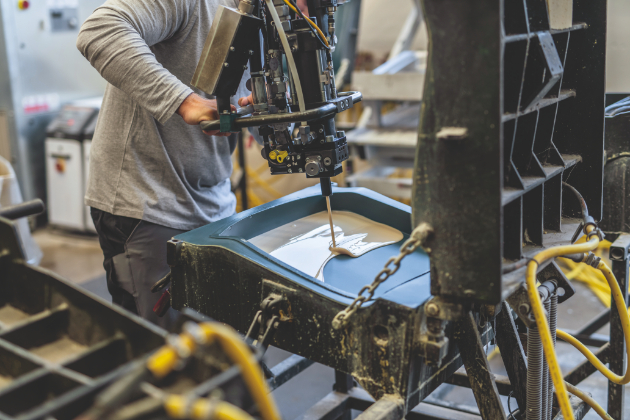 And the company continues to explore new opportunities, as well. When the pandemic set in, rather than lay off her numerous seamstresses, she came up with a way to make use of scraps left over from production. After all, the material is far from waste—it's luxury and top-quality fabric and leather used to upholster chairs and armchairs. At LD Seating, the pieces of fabric that cannot be used for production anymore are repurposed to make bags, tablet cases, and a lot of gift items. The company beat the crisis and even made use of it, just like with the crisis of 2009. Back then, it noticed how officework was evolving, so it added what's called soft seating into its production – simply put small, lounge-style armchairs that were usually seen in homes and hotels. "People no longer wanted to sit at the computer for eight hours and preferred meeting and discussing with others. We took a risk and have enjoyed every minute of it. This is creative work, as we develop our own beautiful products, and this particular area is where our qualified seamstresses and upholsterers make use of their skills," explains Jitka Hurábová. And it's this soft seating portfolio that earns half of the company's profits today—a trend the company would like to further develop in future.
During the first wave of pandemic, LD Seating didn't start sewing just gift items—it also started producing cotton face masks that so many people so badly needed. And it urged other companies with a tailor's workshop at hand to do the same and shared its know-how with them.

Another dinosaur on the horizon!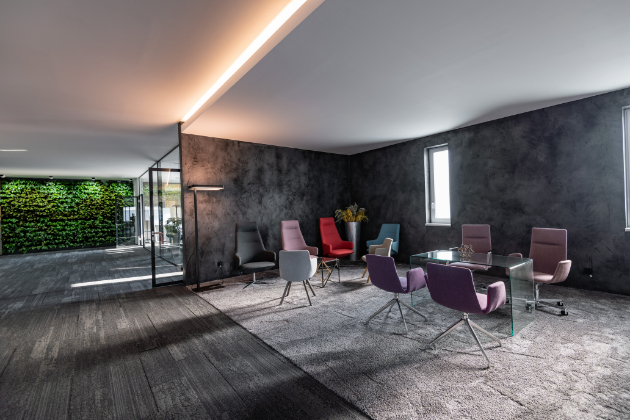 People all over the world like to sit on products from LD Seating, but Jitka Hurábová keeps her feet firmly on the ground: "We don't aim to become the biggest company in the world. We'd like to continue doing our job our way and continue to practice this beautiful and honest craft in our region. To create nice things and show that honest craftsmanship makes sense," she says resolutely. And despite the large number of employees, LD Seating remains a family-owned company. Today another generation of the Huráb family works there: both of the founder's sons, including the one whose love for dinosaurs brought all of this about 27 years ago. And future generations may also look forward to new things, as Jitka Hurábová's grandson (now 5) is already looking forward to his dinosaur chair. And who knows where that is going to take the company!
Read more about the topic
19. April 2023
Robots, made in #brnoregion:  BRUKER automates microbiology for personalized medicine
In our "Robots, Made in #brnoregion" series, we introduce companies developing smart solutions for automation. As the Bruker brand shows, the usefulness of automation extends far beyond manufacturing companies – it can even make processes in microbiology laboratories simpler and less susceptible to human error. And the result? A simpler process of identifying microorganisms and preparing references for diagnostics and treatment of patients.
12. April 2023
The latest data show that #brnoregion is among the European leaders in terms of innovation support
According to the latest data, a total of €856 million went into research and development in the South Moravian Region. This is 3.2% of the regional GDP, which means the highest share of the whole Czech Republic. Such support for innovation is contributed to not only by universities and public research institutions, but above all by companies that focus on research and development. This results from the
2023 Data report
on science, research, innovation and entrepreneurship in South Moravia.