LIKO-S
They've built the first green production hall in the world and thus became experts on green roofs and walls. LIKO-S is one of the largest European producers of interior partitions, but clearly the company is not afraid to go much, much further.
Huge debts at the beginning
The company was established back in 1992 by Libor Musil. Right after the Velvet Revolution, he started out doing business with his father-in-law, but those efforts were unsuccessful. One of the first and main activities of the company was the import and assembly of acoustic suspended ceilings from Denmark. However, the company was unprepared for its rapid growth, leaving Musil in serious debt. He didn't give up on business, though, and started to slowly pay the debts off. "I can't imagine how dad managed at the time; they say he was lucky enough to have great people around him, though. Some members of the original team still work for the company – they are legends to me and my brother and we have a lot of respect for them," remembers Hana Williams Musilová, daughter of the founder of LIKO-S and the company's current HR manager.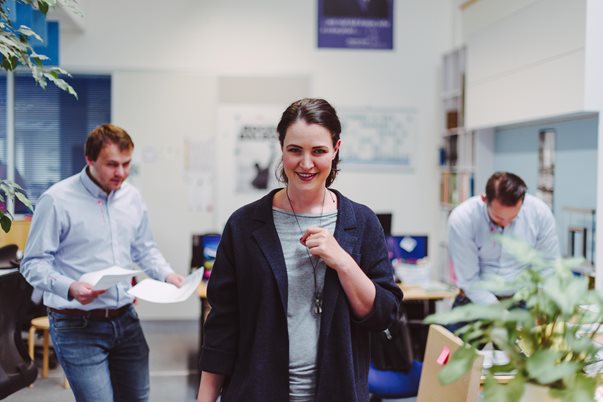 LIKO-S is a family company, you know. Gradually, Musil's wife, son, daughter as well as son-in-law joined the business. Later, the company switched its focus to interior partitions, and in 1995 it installed the first partition system in Central Europe, thus establishing a new market. "Dad was always looking for niches in the market that made sense to him. He wanted to set trends, even when people kept telling him it made no sense and nobody would ever buy things like that," continues Mrs. Williams on their family history. The company was doing well, and Musil paid off the last of his debts in 2005. "Dad still has this last promissory note on the wall in his office."
Partitions, deep fryers, and green walls
Interior systems and partitions have remained centrepieces of their business and LIKO-S is now one of the biggest producers of them in Europe. However, their range of products goes much further than that. The company also deals in custom-made production in engineering and – quite recently – has started to deal in green roofs and walls as well.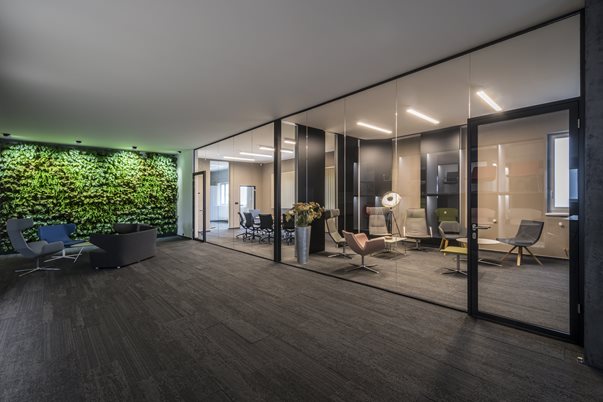 The designers and workers from the engineering division create things, like massive deep fryers several metres wide for fast food chains. They are currently working on a special booth to detect radioactivity in the nuclear industry and on several projects related to water filtering.

Recently, however, their most interesting products are green roofs and walls, which LIKO-S delivers as construction components.
Not a single drop of water wasted!
In 2015, a unique office building was built at the company premises, literally hidden in green vegetation. "We wanted to build a new development centre, separated from the factory. We brushed up on dad's experience he'd gained when building root-based sewage purification system at home, and thus the LIKO-Noe office was built," explains Mrs. Williams, while showing various types of facades they've been rigorously testing. They develop new combinations of plants, basket suspension systems as well as irrigation systems.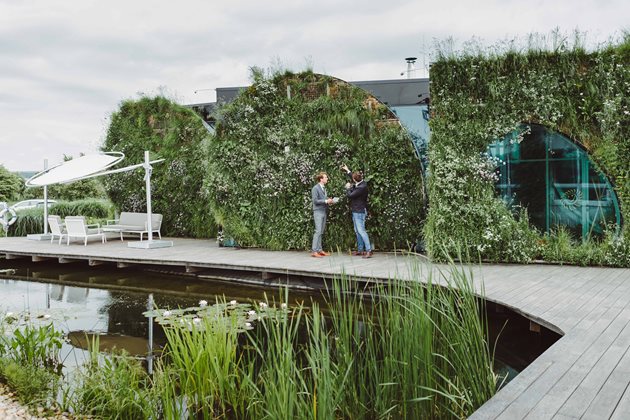 The building uses its own water: all the water consumed in the building is purified through the root-based sewage purifier system placed on the roof and facades. The filtered water then flows to a retention pond and is used to irrigate the facades again:
"Not a single drop of water leaves our premises. And we are so surprised to see how well plants are doing here and how many animals this environment attracts. We've had coypus here, some swans flew over to the pond, we've seen frogs and grass snakes…," adds Williams. She also mentions that they've harvested several big boxes of sour cherries and shadwood fruit as well as several kilograms of blackberries to be used in the company canteen.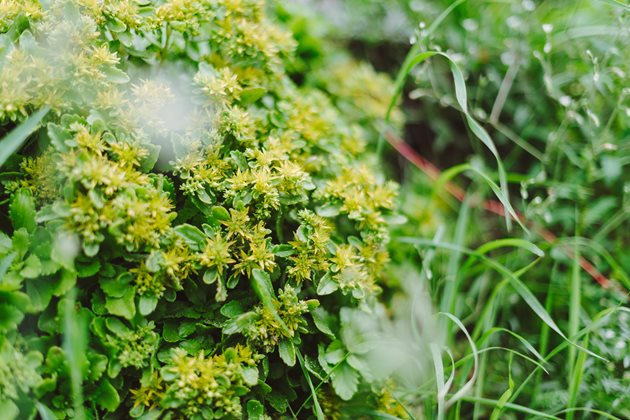 "Currently, the most important issue is that we as people are losing water and our planet is drying up, so we think these green constructions have a great future ahead of them," comments Williams on entire environment their business works in and which continues to become more interesting.
First in the world
LIKO-Noe is said to have been built only as a test, but it's proven to be so great that the people in LIKO-S decided to take yet another step: "We needed to expand the engineering division, due to the huge number of orders received and not enough space. LIKO-Noe was a great place to work and we could see that a concept like that made sense," says Williams, introducing LIKO-Vo, the first green production hall in the world.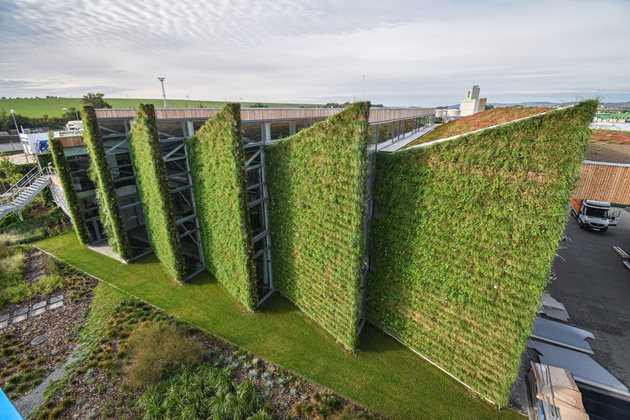 LIKO-S opened it in June 2019 and it did great in the hot summer this year. Like in LIKO-Noe, the green roof and walls serve as the root-based sewage purifier system. Excess rainwater flows to the adjacent soaking pond and garden, where people can take a rest after working in the noisy production halls. The big windows let a lot of natural light into the hall, and it was pleasant to work inside in the summer, even without air conditioning. They don't expect the hall to get cold in winter, either, thanks to the green walls and roof that work as insulation. The green vegetation plays quite a role in the interiors as well; some of the walls have climbing plants on them, stretching up to several metres, so the employees aren't surrounded just by plain sheet-metal walls.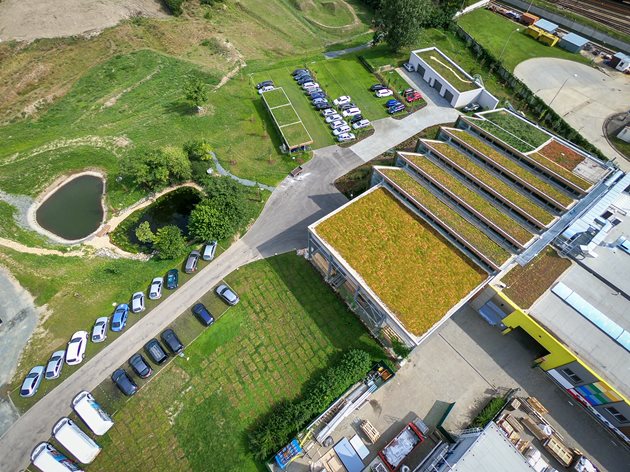 During the tour of the hall, Williams adds: "We build classic production halls as well, and these accumulate heat and warm up the surrounding environment, so we need to accept some blame in this, too. At the same time, however, we try to persuade investors to add at least some green elements to their buildings." And she says they are successful, as green roofs in particular are in high demand these days.
There's an educational trail called LIKO-Stezka going through the entire premises of the company. It is open to the public and there are informative boards describing how industrial premises of the third millennium work.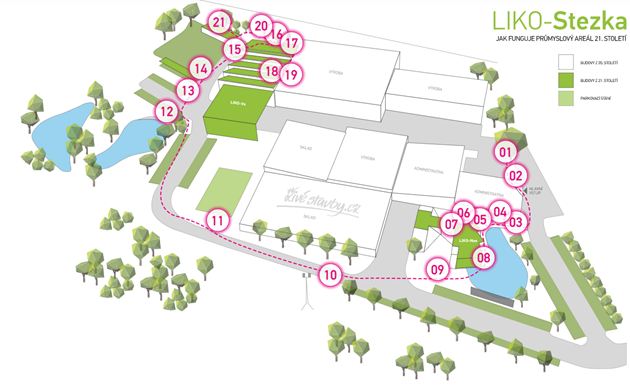 One family
According to Williams, one of the greatest challenges is passing LIKO-S on to the next generation. "It's a huge change in thinking and concept of the company. It's always been our dad who made decisions, defined the vision, and maintained the direction. This isn't going to work with the new generation for too long, though; it requires a lot of communication, patience, and empathy." However, this is supported by a distinctive company culture both Musil's children as well as all the employees identify with.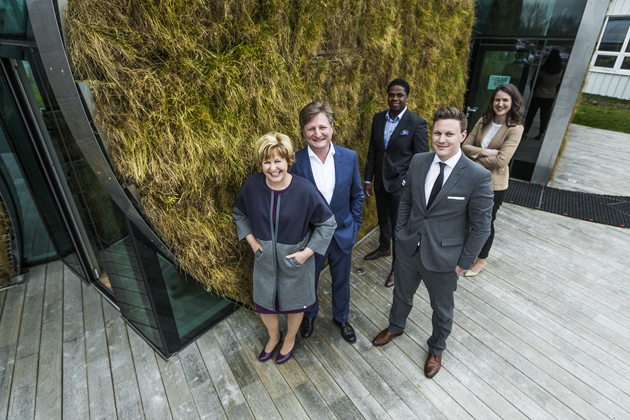 For Musil, however, the families of his employees are important as well, which is apparent mainly in the summer. There's a two-week day camp for the employees' small kids and summer jobs open to their older children. "We'd like the teenagers to see where their parents work and how hard it is to earn money." Williams adds that this is not the only help: "We are like a family, and we'd like to help our people when times are hard, for example, by offering mental health or legal services, when needed."
Read more about the topic
14. March 2023
Robots, made in #brnoregion:   Pekat Vision: Automated eagle-eye for your quality control
Releasing defective products into the world? That's every company's nightmare! That's why quality control guards their gates to stop them, and the more automatized the whole thing is, the fewer defective products end up on supermarket shelves. And the top solution by Pekat Vision from #brnoregion has been in high demand by a growing number of companies!
23. January 2023
Robots, made in #brnoregion: ACAM, master of automation for industrial corporations
Automation and robotization aren't just "nice-to-have" trendy things; for production companies, both are "must-haves", at least when it comes to their routine activities. Numerous impressive solutions have entered the market recently, and many of them are "Made in #brnoregion". Learn more about them in this series of articles!