RANGE OF AWARDS TO MUNI
Competitions and awards improve any institution's reputation in the expert circles and introduce achievements in science to the lay public. They also allow scientists to continue their work in a promising research. At the end of 2017 the students and scientists of Masaryk University succeeded in a few Czech and international contests: their accolades make a long list but it is certainly worth attention.
1. SOFTWARE INSTRUMENTS IN PROTEIN ENGINEERING
First in our list is the Czech Head Award (Česká hlava) for Jiří Damborský and his Software Instruments in Protein Engineering. The team of Mr. Damborský focus on new methods of design and engineering of proteins, the elementary ingredient of a living organism, and implement the methods in software.

The programmes are then used by companies of 120 countries worldwide to design proteins treating diabetes, to develop vaccination and food and nutrition supplements, etc. Check more here if you wish so.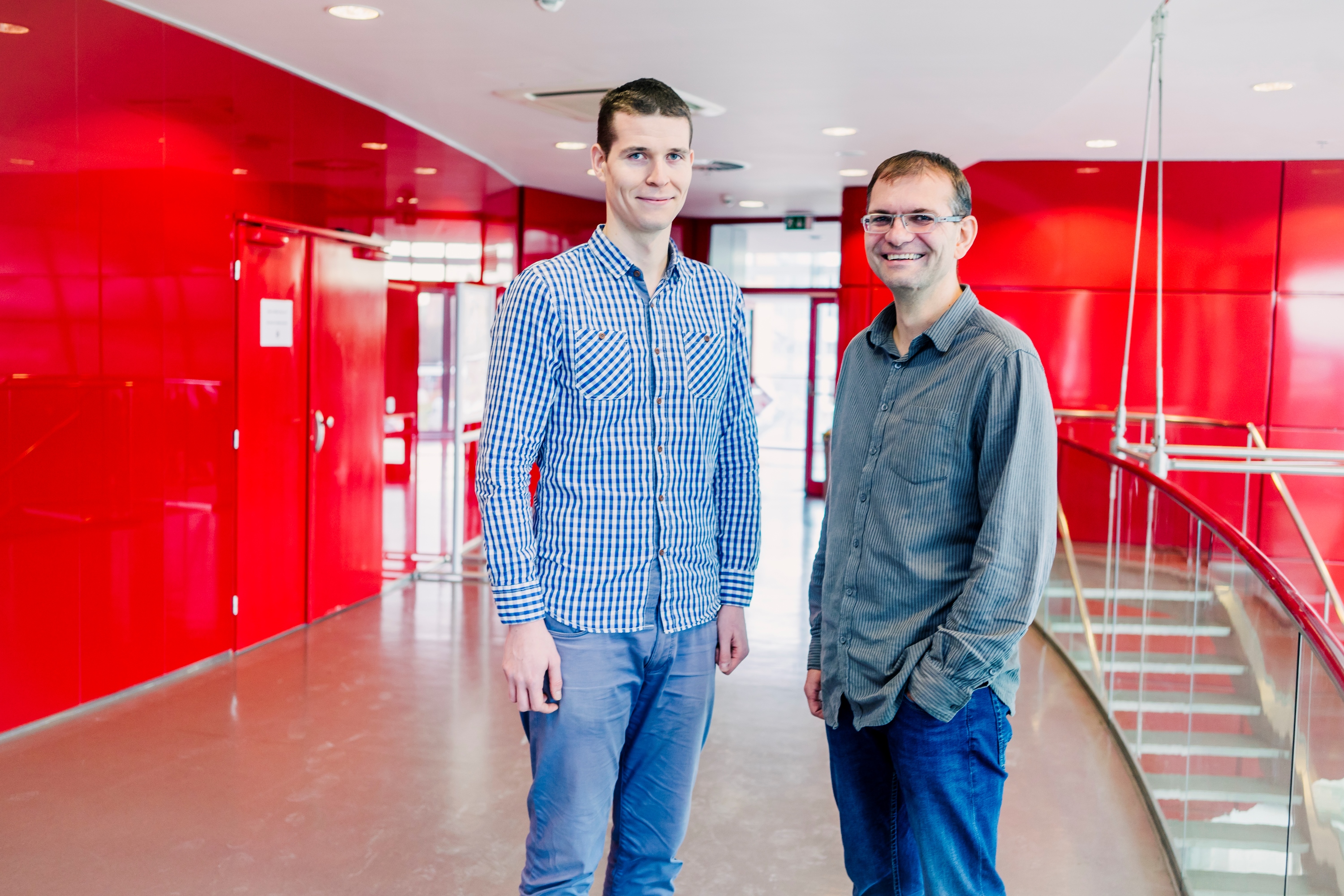 2. RITUALS IN HUMAN LIFE AS ANXIETY PREVENTION
Czech endowment fund Neuron supporting science annually holds the competition Neuron Impuls to award young scientists and every year the fund distributes 9 million Czech Crowns among young scientists of all spheres of interest: religionist Martin Lang was awarded in social science category. He now works in Harvard (the USA) yet winning the award made him consider bringing his research on relation of rituals and anxiety to HUME lab, the laboratory for experimental humanities at Masaryk University.
"My target is to discover how human mind works when feeling insecure." Mr. Lang presumes that activities following patterns help to anchor a human when feeling insecure and reduce the pressure. He therefore studies religious (very complex) as well as other rituals of all levels, including a routine morning cup of coffee.
3. RESEARCH OF CHRONIC LYMPHOCYTIC LEUKAEMIA
Student of Biology Michaela Gregorová, supervised by Vítězslav Bryja, searching for medicine to cure one of the most frequent types of Leukaemia with people over 65 years of age, won an international award. Michaela is the third student of Faculty of Science at Masaryk University who was awarded in the program of students of science and whose work ranks in top 10 % of the best 6500 bachelor thesis applying for the award.
"In my thesis I studied an enzyme called CK1 which plays an important role in a number of cell signalling pathways and, therefore, has an impact on many biological processes. I examined whether this enzyme could be the key in the search for treatment options for chronic lymphocytic leukaemia," summarises Michaela Gregorová.
4. STEP FORWARD IN CANCER RESEARCH
The team of Lumír Krejčí boast of their discoveries published in most prestigious magazines worldwide. The biochemist and molecular biologist won the Prize for Excellent Research Results and Experimental Innovation by the Minister of Education of the Czech Republic, Mr. Stanislav Štech. Mr. Krejčí and his team study mechanisms providing stability of genetic information of a cell and prevent it from developing a range of serious diseases including cancer.
Karina Movsesjan (18) is also a member of Mr Krejčí's team: she studies proteins extremely significant to keep human genome; and you already could read a bit more about her in this article.
5. DEFORMED WING VIRUS THREATENS AGRICULTURE
Minister of Education of the Czech Republic awarded PhD student Karel Škubník of Ceitec MU who also became the winner of Czech Heads (České hlavy), the most prestigious award in science and research, for his discoveries on Deformed Wing Virus.

The Deformed Wing Virus has spread worldwide and reduces the populations of a honeybee in Europe and North America, moreover it infects solitarily living honeybees and bumblebees. Honeybee colonies have no defence against the virus and there is no efficient cure therefore the virus is a serious threat to agricultural produce as well as to species diversity of wild blooming plants. Mr. Škubník described the structure of Deformed Wing Virus in a variety of conditions and discovered the mechanism of the virus entering the bee cells.
6. BEHAVIOUR OF WHITE BLOOD CELLS IN BODY
Another winner awarded by the Czech Minister of Education is Pavlína Janovská from the Institute of Experimental Biology for research of signals responsible for behaviour of white blood cells in human organism, their communication with other cells and with the environment inside human body: "My principal question is how these signals influence the beginning and development of cancers of white blood cells – Leukaemias and Lymphomas." Treatment of the two diseases aforementioned will undoubtedly make use of Pavlína's work and discoveries.
7. RESEARCH OF STEM CELLS
Dáša Bohačiaková (33) of the Faculty of Medicine at Masaryk University was awarded for her study of neural stem cells. They develop in various types of neural cells and Ms Bohačiaková discovered the way to make embryonic stem cells grow and become one particular cell type. Prospective conclusion of the research will describe molecules that define the identity of stem cells and potentially influence the growth of tumours.
Read more about the topic