Starting a revolution in the world of water pipes from Brno!
Would you believe that the most luxurious water pipes (or at least the first modern ones) come from #brnoregion? Created under the Meduse brand, with their sleek submarine design and polished details, they've been making their way into luxurious hotels and celebrity households all over the world – even the living rooms of Arab sheikhs!
The phenomenal success of Meduse (also) in the Middle East is like something you would find in the dictionary under "paradox" – a water pipe producer from Central European Brno managed to beat all the traditional, local producers of Arab shishas… right on their own turf. Imagine Mexicans dominating the American market with a perfectly tuned Coca Cola or South Koreans designing a very sophisticated Bavarian dirndl that would take Oktoberfest by storm. Shocking, right? Well, Meduse and its innovative water pipes have found success not only in Arab countries but throughout the rest of the world, too. Among their satisfied customers, you'll find the main designer of McLaren cars, the sultan of Brunei, and the owner of the Manchester City football club. Also, one shisha with a gilded stand was used in Jupiter Ascending, a movie directed by the famous Wachovskis, the minds behind the Matrix.

So how does one pull off such a feat?
Outdated design five centuries old
Seen from the outside, it all looks surprisingly simple, but up until recently, nobody could come up with a way to improve the look of the 500-years old water pipe, or at least never succeeded in bringing it to life. Then Jakub Lanča, a university student at the time, attempted to innovate the design of the water pipe as part of his semester paper. What a simple story it is: he wanted to buy a water pipe, but didn't like the shabby design of traditional Arab shishas. The assignment was clear then: to create a tasteful piece that would decorate his interior so he wouldn't have to keep putting in a wardrobe so that visitors, or even he himself, didn't have to look at it. And he succeeded! He designed his first "meduse" as a water pipe for the present as well as the future, inspired by the submarine world, which politely, but resolutely sends the traditional Arab shisha where its design belongs – into the past.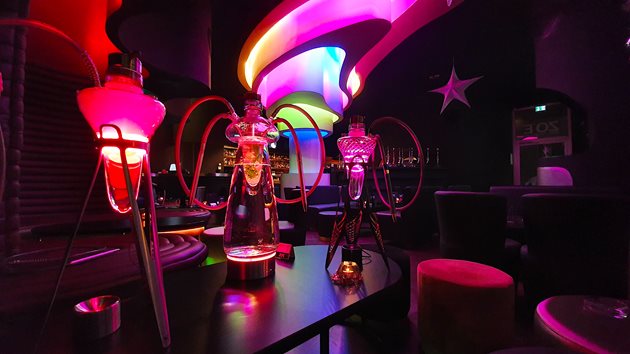 Relying on phenomenal Czech glass
But what was so new about the pipe? Well, Lanča paid special attention to the glass vessel that holds the water used to cool down the smoke and he placed it on hand-forged legs, lifting it to eye-level. For the very first time, smokers could watch the whole process taking place within the pipe. Also, this vessel was no regular hunk of glass, either – it was a manually blown beauty made and branded by famous Czech glass makers. Uniting this source of Czech pride with hand-forged steel, high-precision 3D CNC laser technology, laser beams, and LED light effects turned out to be the perfect solution – a union of form and function that started a revolution in water pipe smoking.

Glass-making is an art form with a long history in the Czech lands. Archaeological findings show that the first to make glass here were the Celts, who made jewels of glass as early as in the 3rd century. Glass bowls from the early Middle Ages were also found here, and the first documented glassworks were established in the Czech borderlands in the 13th century. Czech glassmaking gradually grew in reputation and caught up with (and often even outshined) the famous glass products from Venezia, France, England, and Germany. The quality of Czech glassmaking continued to improve even during the Communist regime and our glass was exported throughout the entire world under the brand of Skloexport. After the Velvet Revolution in 1989, the glass production in the Czech lands entered a difficult period when a lot of businesses went bankrupt. Despite this setback, some other companies managed to become successful exporters, and their luxurious installations today decorate for example the opera house and subway in Dubai, the Crown Casino in Melbourne, a number of hotels in Asia (such as the Ritz Carlton in Hongkong) or a palace in French Versailles.
Robots and beer-brewing machines, maybe?
Now that the product was born, all that was left was "only" to establish a company, so two years later – in 2005 – Jakub Lanča joined forces with Jiří Starý, his high-school classmate. Another two years later, they exported several pipes directly to the INDEX trade fair in Dubai, the Mecca of water pipes. Success came soon and the pipes sold quickly. And after a presentation in person, a son of one of the emirate's rulers bought several pipes from them. "At the beginning, the people at the fair didn't understand what we were offering at all. They thought these were some special beer-brewing machines or some kinds of robots. It was quite interesting as well as demanding to explain to them how our pipes work and what their added value is. Nevertheless, their appearance had everyone intrigued," remembers Starý, co-owner of Meduse. Then word of mouth began to spread and more and more customers kept coming, even after the Fair. Two years later, this new company received an order to produce 250 pipes for a huge restaurant in Jeddah, Saudi Arabia, and soon Meduse pipes were decorating luxurious hotels such as the Ritz Carlton, the Four Seasons or the Hilton, all over the world. For the young innovators, this was a sign that they were on the right track, even though banks thought the very opposite and refused to provide them with necessary finances at the beginning, so – in order to start up their promising business – the young entrepreneurs had to borrow money from their relatives.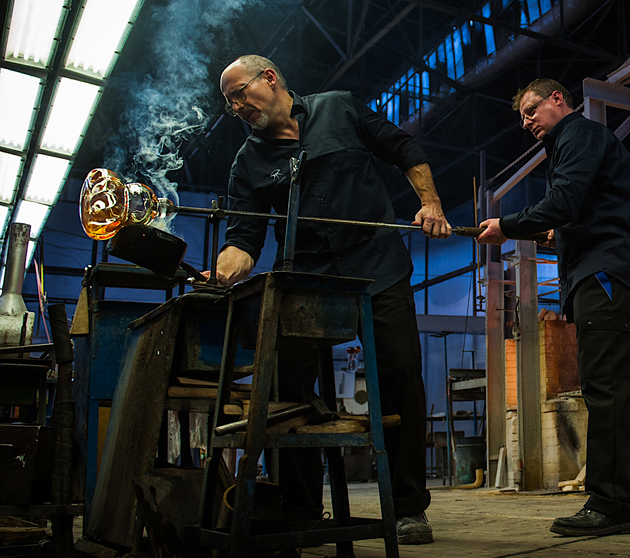 It took a lot of courage to look for first customers directly in the Middle East. However, it's interesting to see that others had already made efforts in this direction, as Czech glassworks had been producing traditional glass vessels for water pipes for several decades. Czech blown glass was renowned there and, in their own way, these young entrepreneurs were able to continue in this tradition.
Pipes are not enough!
In 2016, Meduse launched its first premium tobacco, grown in Europe and GMO-free. As the only producer of such tobacco in the Czech Republic, it also exports it abroad. Its owners are apparently not afraid of innovations at all, as they've also developed their own fruit shisha cocktails, mixing fresh fruits and herbs, spices as well as coffee, chocolate, and exclusive alcohol. With no plans of slowing down at all, they'd like to continue in and expand their cooperation with five-star top hotels all over the world.

Both Lanča and Starý were born in Brno. "Brno is an excellent place to live as well as do business: not too big, not too small – just the right size. With a clear infrastructure, perfectly accessible services, and a relatively stable job market," says Starý on why the company settled down in Brno. However, they have to fly all over the world to meet with their customers. "From time to time, we sell some pipes here as well, but the company isn't too established here yet. It's become a popular icon with the professionals, a bit like Ferrari – most people dream of owning one but hardly anyone can afford it. For lots of Czechs we're pioneers who made our country famous abroad, which feels good," he adds.

Break your piggy bank!
And the talk about being the Ferrari of its industry is real. Each water pipe by Meduse is a thoroughly crafted, handmade masterpiece. Only the best pieces of perfectly blown glass are chosen, with around 70% being used for something else. And this precision affects the price. The most normal-looking, smallest, and cheapest type of pipe costs over 400 euro, and more demanding customers pay up to ten times more. So if you've put your shisha into the wardrobe and feel like buying your own Meduse, you'll have to keep feeding that piggy bank. And even if you don't succeed in filling it up, you can always keep reminding yourself that smoking damages your health, anyways...
Would you like to see more pictures of these fascinating creations? See more on Meduse Instagram or Facebook page!
Some numbers about Meduse:
2005 – company established

5/20 – Meduse offers five collections and 20 types of pipes in total

5/40 – Meduse exports its pipes to all the continents (except for Antarctica), into around 40 countries

20 – the company offers its own shisha menu, with over 20 special, expertly designed fruit cocktails

EUR 400–EUR 4,500+ – the price range of Meduse water pipes
Read more about the topic