The best care for your head and heart
No, we can't help with your broken heart in #brnoregion (well, we actually could, but let's leave it for some other time…), but if you're looking for the best experts on diseases, such as irregular heartbeat, high blood pressure, sleep apnoea or Alzheimer's disease, the FNUSA-ICRC science and research centre is just the right place for you.
The International Clinical Research Center of St. Anne's University Hospital Brno (FNUSA-ICRC) is one of four centres of excellence based in #brnoregion. This science and research centre searches for new methods, technologies, and medicaments for prevention, early diagnostics, and treatment of cardiovascular and neurological diseases. Besides its theoretical research, it also focuses on finding methods applicable and – mainly – applied in practice, and the centre communicates with the public as well.
Research into broken heart
Its 30 research teams focus mainly on research of heart and brain as well as basic research related to cardiovascular and neurological diseases. Thanks to the scientists from #brnoregion we better understand and treat various cardiovascular diseases, sleep apnoea as well as neurological diseases and disorders. The teams focusing on basic research examine for example stem cells or models of diseases that would enable them to reveal the mechanisms leading to heart failure.
Did you know that up to 20% of adults suffer from sleep apnoea, yet this issue has been studied in the EU only marginally?
Brain masters
One of the highly-renowned names related to FNUSA-ICRC today is Robert Mikulík. Even though a career in medicine originally wasn't his dream, the enthusiasm of this Brno neurologist for technical development and his desire to give hope to the patients led him among the elite of the research of stroke.
Cerebrovascular accident is the second most frequent cause of death worldwide. Every year, up to 17 million people suffer from it while every third of them dies.
Within first five years following a brain stroke, 20% of patients relapse. And that's exactly what Robert Mikulík tries to reverse. He's contributed to a global study on measures to prevent repeated ischaemic cerebrovascular accident, published also by The New England Journal of Medicine, one of the most prestigious science magazines in the world. Besides, he is in charge of a comprehensive project on improving treatment of cerebrovascular accidents and has created the RES-Q project which monitors the efficiency and quality of care of patients who had a cerebrovascular accident. Thanks to his work it will be a bit easier to improve the quality of this care.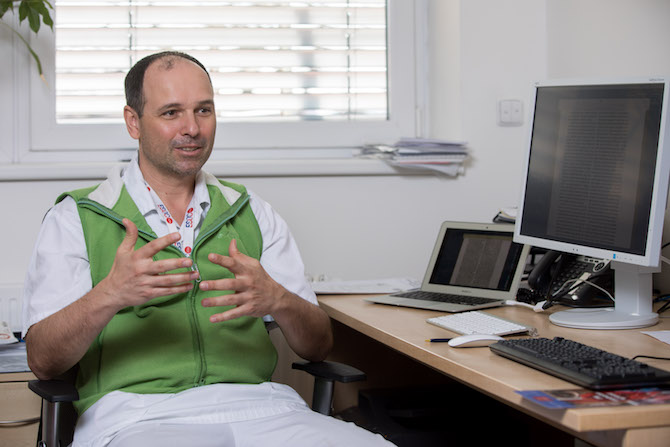 Neurologists from #brnoregion study at Yale
Do you know Yale University? Of course you do! One of the most prestigious universities in the world, with the best neurological department worldwide, it has been collaborating with FNUSA-ICRC since the beginning of 2018. And thanks to a new postgraduate program Czech doctors can spend a year or two directly at Yale and participate in its neuroimmunological research.
Fight against ageing
The Czechs aren't the only ones to grow old. Currently, every fifth Czech is 65+ years old. And this is why FNUSA-ICRC works hard to create a new research team of about 220 members. Why so many? To fight ageing! When people are getting old, they suffer from tumours, chronic inflammations and degenerative brain or heart diseases. Recently, the project named Molecular, Cellular and Clinical Approach to Healthy Ageing has received an exceptional grant of 700 million Czech crowns.
However, the researchers from FNUSA-ICRC will be joined by other research centres from #brnoregion as well as from Central and Northern Moravia. The research team will work in several groups, with each focusing on different relations between ageing and some disease, such as cancer, chronic inflammations or degenerative processes in brain and heart.
"Thanks to this new project we'll better understand how ageing works and new preventive, diagnostic and medical solutions for disorders related to age will be developed, so the society can begin to consider ageing as an advantage, not a burden," says Martin Pavlík, director of St. Anne's University Hospital Brno.
Internationally renowned research done in #brnoregion
In 2017, the researchers from FNUSA-ICRC published in various prestigious international magazines, such as Nature Communications, Circulation, Molecular Cell, and Andgewandte Chemie. Also, they were given several prestigious awards, e.g. Danubius Young Scientist Award by the Austrian Federal Ministry of Education, Science and Research, award for young scientists by Alzheimer's Disease International, award for the contribution to the care of stroke patients by the European Stroke Organization, and award for the best article on cardiology by the Czech Society of Cardiology.
FAST! Sounds familiar? It's an acronym used as a mnemonic to help detect symptoms of a stroke: Face – paralysed face, Arm – paralysed arm, Speech – confused speech, Time – time to immediately dial 155 to call the ambulance.
Interested in what FNUSA-ICRC works on? Join the life full of challenges and become a renowned expert in #brnoregion!
Read more about the topic
25. July 2023
Electron microscopy in action: Brno teams are developing energy-efficient chips
Exploring new materials for chip production and enabling their analysis directly in the production environment – these are the tasks of two scientific teams from #brnoregion – from Thermo Fisher Scientific and Brno University of Technology. Electron microscopes play a key role in their efforts. Thanks to them, as part of the three-year
European ALL2GaN project
, we can look forward to a solution that has enormous potential to save energy and thus mitigate the climate crisis by reducing CO2 emissions. Indeed, the gallium nitride chips being developed will be used in a wide range of applications including telecommunications and e-mobility.