We Don´t Hack Around
A gang of professionals, limited time, uncompromising deadline and useful software at the end: congratulations, you've just passed a fast track hackathon. This programming format is nearly 20 years old and extremely popular in #brnoregion too.
Hackathon is not a gathering of illegal hackers as the term implies (...what a surprise!). In the 1960s the word hack was used to describe producing a creative solution when efficiently using computers. Their capacities were not great then so the programmers had to be extremely creative to keep the programmes working well while compressing the code in the lowest number of program lines possible. It takes some skill, doesn't it?
A bit about past
The first hackathon was held in 1999 when a group of ten US programmers went to Canada for one week to implement IPsec (Internet Protocol Security) in the operating system OpenBSD. Due to strict legislation concerning coding systems and their exports, it was impossible to perform the implementation from the USA.
The form is clear: there is a problem to be solved in limited time with the final product being a useful, fully functional programme. The time available ranges from a few hours to a week; however one thing is always the same: the intense work and concentration on the job as well as vivid discussions sparkling with ideas.

Programmers live on adrenalin, litres of coffee and energy drinks, they draw energy from their desire to learn more and show more. That is why the hackathon principles and drive survive and its various forms flourish in businesses and universities.
Programming on Train
Last autumn the company KIWI.com from Brno organized #kiwitrainhack – a travel hackathon on train (obviously). 13 teams boarded the train in Prague to create a useful innovative travel app during a 16 hour journey to Košice and back.

The winners then shared prizes totalling 4,000 Euro. The Grand Prix went to the team of Ukraine for their app Fly2event which makes travel packs compiled on the basis of what the users "liked" on Facebook. The application PickmeUp using the principles of Tinder (it suggests places to go instead of people to date) was awarded too. Great job, guys!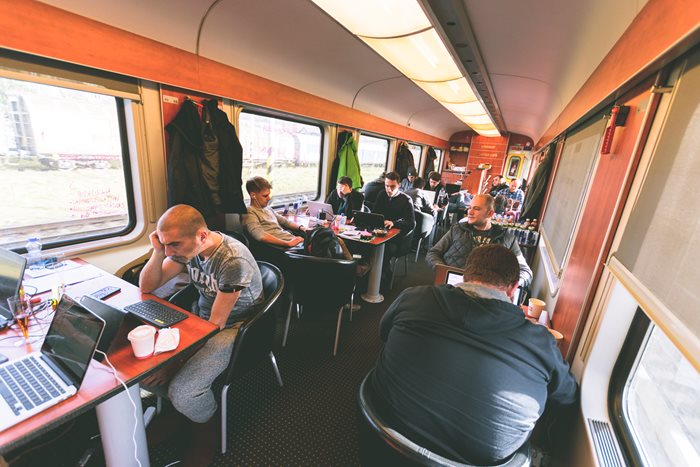 Adrenalin and prizes are not the only attractions. A hackathon is a fantastic opportunity to learn from experienced supervising mentors, or acquire interesting contacts and hopefully win a prospective job with a new project. Or "just" spend some juicy time with bunch of "your people".

The programming language is a universal speech to make the hearing and deaf communicate. Non-profit organization Tiché spojení ("Silent Connection") is one of those who accepted the challenge: in collaboration with Phonexia, a company from Brno who focus on speech technologies, they organized a hackathon designed to help people with hearing impairment. In two days 30 participants were to create an app or technology to break the barriers between the worlds of the deaf and hearing. That is why the participants were both the deaf and hearing and everything was interpreted in sign language.
Do you know that in the Czech Republic there is only about 100 sign language interpreters? There are over 25,000 people who need their assistance. This disproportion may get balanced thanks to this hackaton's winning project Tlumočník do kapsy ("Pocket Interpreter") which interprets the speech in real time.
Modern Public Administration
The administration of Brno followed the good example of progressive cities worldwide and started the project of Participative Budgeting which allowed inhabitants of the city themselves to decide about distribution of part of the city budget. Online communication considerably supported the openness and easy access to the project and that is where the hackathon helped most.
The top priority was the web site to introduce projects and facilitate voting for them. The task was to design the web site and trustworthy tools to verify the votes. Only residents of Brno are allowed to vote for the projects listed in Participative Budgeting therefore a system working with sensitive data was required.
Hackathons inspire, help and motivate. Come to #brnoregion to win one of them (or sign your project to Participative Budgeting, the second round is on right now! ;) )

Few ideas of last year (and we guess you can imagine what they are about even they are described in czech language):
Read more about the topic
25. July 2023
Electron microscopy in action: Brno teams are developing energy-efficient chips
Exploring new materials for chip production and enabling their analysis directly in the production environment – these are the tasks of two scientific teams from #brnoregion – from Thermo Fisher Scientific and Brno University of Technology. Electron microscopes play a key role in their efforts. Thanks to them, as part of the three-year
European ALL2GaN project
, we can look forward to a solution that has enormous potential to save energy and thus mitigate the climate crisis by reducing CO2 emissions. Indeed, the gallium nitride chips being developed will be used in a wide range of applications including telecommunications and e-mobility.