Armin the Extraordinary
What a funny paradox it is that insignificant trivia get in the spotlight while very important phenomena go unnoticed. Quite the same with people: there are so many so-called celebrities while we hardly ever know the true heroes worth our admiration. One of the greatest personalities of our country and modern science was Armin Delong. Have you ever heard this name?

Yet it is the name deserving most attention. Anything about him was exceptional, from the unusual name (he was born in Bartovice near Ostrava, his ancestors came from France in the late 1500s during the persecution of Huguenots), to unique skills, talents and incredible discipline.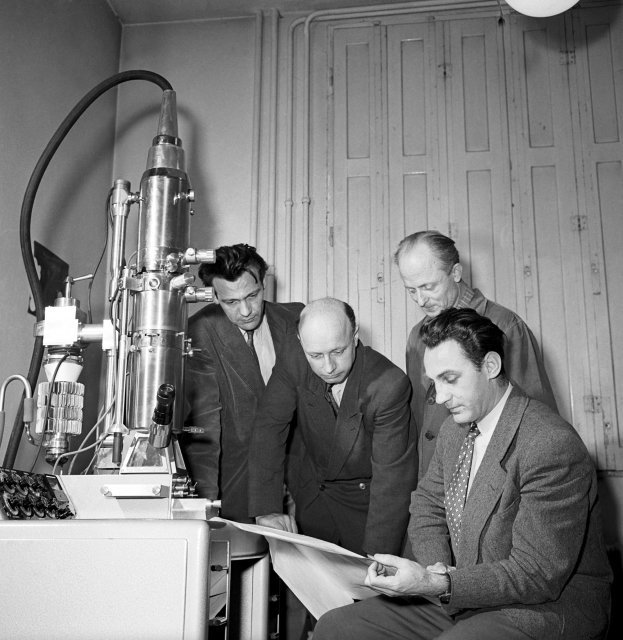 Young Learner, Wise Elder
Mr. Delong was keen in science ever since his early years. He was nine when he got an electric discovery kit, and soon combined the parts and produced an operating phone. Then the first radios came and the future was clear: young Armin fell in love with technology ... forever.
"I kept on making better radios even though it was strictly prohibited. I was dreaming of moving to Brno to study at Technical University."
His dream came true. After the war he studied Low-Voltage Current / Electric Engineering at the University of Technology of Dr. E. Benes. With classmates Vladimír Drahoš and Ladislav Zobač in the team lead by Professor Bláha they started construction of an electron microscope. The first Czech one they produced in 1950. Czechoslovakia became a member of a very exclusive club as only three other countries worldwide were capable of producing and electron microscope.
And the World Belonged to Them
In 1956 Delong's team finished a desktop transmission electron microscope Tesla BS 242 which won the Gold Medal at the World Exhibition EXPO 58 in Brussels. It was an important ingredient in the huge success of the Czechoslovak Pavilion which was an absolute sensation and won the greatest number of awards. The microscope became a superstar too; it became the world's best seller, being produced for the longest time. Over 1,100 microscopes of this make were produced thanks to its simple operation and small size allowing it to be placed on any desk.
"An Australian colleague made me very happy when saying that he still uses our Expo microscope when teaching: his students may disassemble it, study the parts and then put it together again," commented proud and happy Armin Delong.
Institute of Scientific Instruments
New prototypes were made in the Institute of Scientific Instruments (foundation of which was based on the work of Armin Delong and Vladimír Drahoš), and took over the socialist market for 40 years. The production was quite complicated due to problems unthinkable nowadays: lack of material, not enough components available, etc. Despite of great efforts of the scientific team the products were always slightly late. Eastwards from Brno, the microscopes were still the best, nevertheless the world leaders were getting further and further ahead. The "Velvet" Revolution of 1989 really came just in time.
New Age
Professor Delong had many issues to solve after the revolution. The institute that he headed inevitably needed transformation. Professor Delong became the Deputy Chairman of the Czech Academy of Sciences (Akademie věd ČR) and the Deputy Prime Minister of the Government of the Czech and Slovak Federal Republic (responsible for scientific and technological progress) to support development of the Czech science from the highest administrative positions.
He won numerous accolades, e. g. the presidential Medal of Merit (Medaile Za zásluhy), the National Award Czech Head (Česká hlava) for his lifetime contributions to science and developments in electron microscopy. International recognition included the membership in the International Scientific Advisory Board, the board consisting of leading world scientists not only in electron microscopy. He published over 120 studies, range of conference presentations and two monographs on electron microscopy.
Even at the age of 90 (two years before he died) he would regularly get up at three and start working at six either in the company with his name, Delong Instruments, or in the Institute of Scientific Instruments of the Czech Academy of Science. He died in October 2017 leaving a trace in history of science like nobody else.
Read more about the topic
22. December. 2022
What makes Christmas in #brnoregion special?
Christmas in the Czech Republic may seem the same as in lots of other countries. It's cold, the city is covered with colourful lights, a decorated Christmas tree, good food, gifts, and lots of meetups with friends and relatives. So what is so special about Czech Christmas then?
14. June. 2022
NEW EUROPEAN BAUHAUS: A HOPE FOR SMART EUROPE
The New European Bauhaus endeavors to merge the European Green Deal with quality design to be inclusive and accessible to everybody. The aim of this project is to show how sustainable innovations bring real, positive experiences into our everyday lives.