Girls and Technology? The Perfect couple
Right. There is still majority of men in Czech IT and engineering. However, #brnoregion supports bright brains regardless of gender, and ladies and girls take the plunge!
Women: the First Programmers
Do you know that many women were at the foundation of IT? The programming language of the first vacuum-tube computer was developed by six women. Then something happened, the field became a dominantly male environment, and the balance was lost. A legend says that the programming team in the 1940s photo was years later considered a group of neatly arranged models.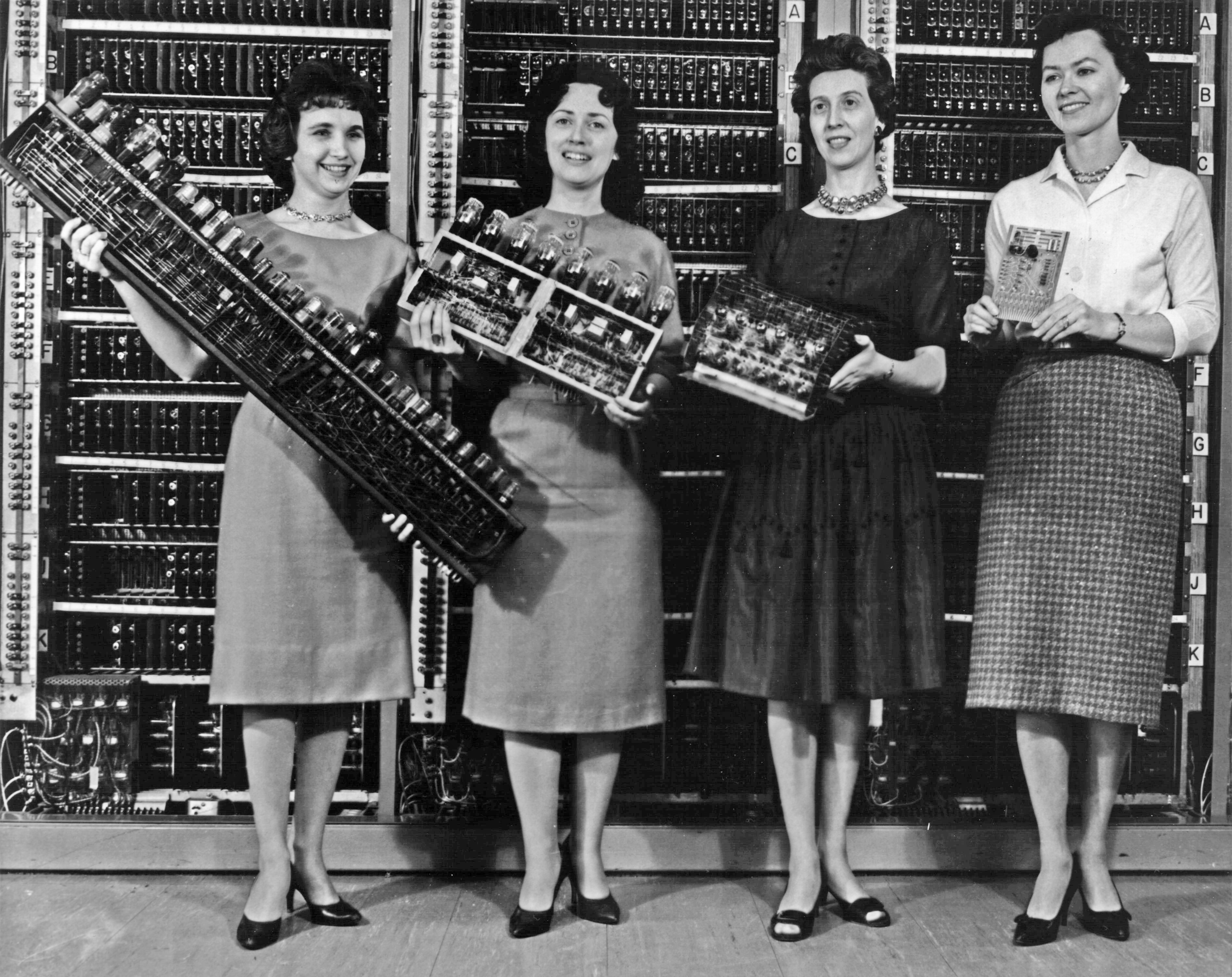 There's more in the world of technology that was discovered by ladies, say windscreen wipers, circular saw, and Kevlar bullet-proof vest. Yet we often hear that technologies and women do not mix. Let's come back to #brnoregion and see what the local ladies have to boast about:
Superstars of #brnoregion
Names listed below prove that ladies and technologies make a perfect mix: Kateřina Žmolíková and Anna Popková have done excellent work in IT. They are fascinated by sound processing and belong to BUT Speech@FIT, a group introduced in our article on sound engineering in #brnoregion. Kateřina develops algorithms automatically translating speech in a text regardless of noisy environment. Anna participated in development of software to tell emotions from a speech. Call centres find it attractive as their management can tell how happy the callers actually are.
The first (female) Czech winner of Ambassador Award by PRACE (Partnership for Advanced Computing in Europe) is Marta Čudová, a Ph.D. student who was thus granted an internship at the supercomputer at the prestigious Edinburgh Parallel Computing Centre in Scotland where she studied parallel programming in Python for two months.
The first (female) Czech winner of prestigious European Frost & Sullivan Award for Technology Innovation is Ivana Márová. She is the author of the biotechnology Hydal, which facilitates production of biodegradable plastics from used deep-fryer oil. The technology was purchased by a company producing biodegradable farming films that should help reduce the pollution in China.
For a change - Lucy Vojtová patented a range of medical material and nowadays specializes in 3D print technologies in medicine. A very impressive line-up, isn't it.
More Women in Engineering and Technology
In 2015 Eurostat quotes 17 % women in students of ICT in the EU and the number is the same in statistics of professionals. The research in co-operation with Brno University of Technology explains the small number of women in technical spheres by their worries and shyness to join the male IT crowds.
This is where the graduate from the IT department at Masaryk University in Brno comes in who hasn't been mentioned yet: in 2014 Dita Přikrylová founded a non-profit organization Czechitas as a response to the low share of women in IT industry. She did not aim at the very popular gender equality, her mission is to raise awareness and spread information on IT with women.
"Studying IT, I loved the idea of a fine, creative work, very flexible and well paid. And I felt that girls seldom thought of it like this," says Dita Přikrylová.
Educational programmes and events by Czechitas are extremely successful: Hundreds women have discovered what fun IT is when attending short-term or long-term courses focused on programming, encrypting, graphics or data analysis. Czechitas teach women and businesses a lot about the brave new potential. These activities earned Dita a good position in Forbes 30 below 30 and in the list of Innovators of Central and East Europe: New Europe 100.
Read more about the topic
22. April 2022
Brno hospitals receive over 820,000 EUR for their Covid-19 research
Brno University Hospital and St. Anne's University Hospital have won a grant for several projects dealing in the research of covid-19. They are searching for preconditions for serious symptoms, the role of immunity in myocardium damage, and diagnostics of superinfections for ventilated patients.