Give Moravian asparagus a chance!
If you can't get enough asparagus, #brnoregion 200 years ago would have been your paradise! After all, this is where the most delicious asparagus used to be grown – it even made it onto the table of the emperor of Austria-Hungary every single spring.
The story of the asparagus from Ivančice reads as fast as this fragile delicacy grows (and considering that the little fella can grow up to 7 cm in one day, this is going to be a short read)!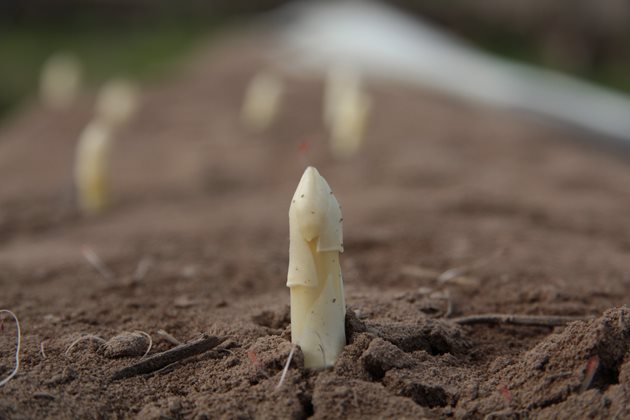 A delight fit for an emperor
Ask Google to show you where Ivančice in South Moravia lies and you'll see that this small town located at the confluence of three rivers just 30 kilometres to the south-east of Brno used to be famous for growing wine grapes, just like most of #brnoregion.

At the beginning of the 19th century, however, the local vineyards were replaced with fields of asparagus that soon became famous all over Europe, especially in the court of the emperor of Austria-Hungary. At the time, the asparagus from Ivančice was said to be more famous than the beer from Pilsen, which is still quite a brand! However, the biggest producer and consumer of asparagus was (and still is) Germany.
Quick to grow, quick to spoil
Don't be surprised if you aren't too familiar with this unusual vegetable. It's fragile sprouts only grow during a short period in spring. On top of that, they have to harvested manually and brought from the field to the plate as soon as possible in order to keep their delicious taste: the tastiest asparagus should make it onto your table in several hours, or days at most, or else the sprouts lose their fragility and become woody.
Asparagus sprouts usually come in one of these two colours – green and white – even though they both are from the same plant. Its tubers are planted deep in the soil and the first sprouts are harvested two years later. The plant can survive for up to 20 years in the same place. In order to grow the white sprouts, the asparagus has to remain in darkness. When it is exposed to sunlight, it turns green. Ivančice became famous for growing only white asparagus, as it's finer and, according to asparagus gourmets, also more delicious. While today's white asparagus is grown under a dark foil, historically they were covered with clay bells made specially by local potters.
The fact that asparagus had to make it from the field onto the table as fast as possible was known as early as in the 19th century. Workers in the fields cut off ripe asparagus heads early in the morning and left the almost-ripe ones, but marked them by placing a pebble on the clay bell that covered them. This way they knew which plants to harvest in the afternoon and avoided needlessly damaging the plants by uncovering and checking them again. The sprouts were then tied into bunches and put in special custom boxes created by the largest of the local growers, Anton Worrell. On that very day, the boxes had to be transported to the post office to be sent to the adjacent village and then by train all over the monarchy. By evening, the asparagus was arriving in Prague, Vienna, Strasbourg, or Wroclaw.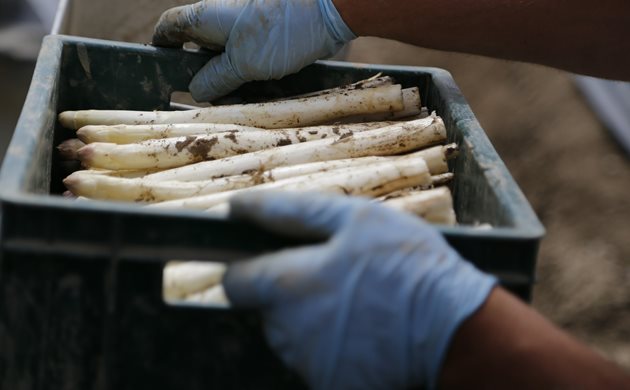 The asparagus from Ivančice supposedly gets its delicious flavour from the soil it grows in. Usually grown in sandy soil, asparagus grown in the region's lighter, alluvial soil is more delicate. And that may just be how asparagus from Ivančice became so famous.
Asparagus in the gardens in Ivančice
In the end, though, nothing lasts forever. With the collapse of the monarchy, the asparagus fields gave way to industrial areas and today most of the fertile soil in Ivančice and its surroundings is either covered with houses or not cultivated at all. The fame of local asparagus is now remembered mainly thanks to the Asparagus Feast, held every year in Ivančice in its honour.
For harvest to be commercially viable, asparagus needs to be grown in an area of at least 20 hectares. Also, it's a seasonal plant and during the harvesting season from April to June, several hundred workers are required to properly harvest the ripe sprouts by hand.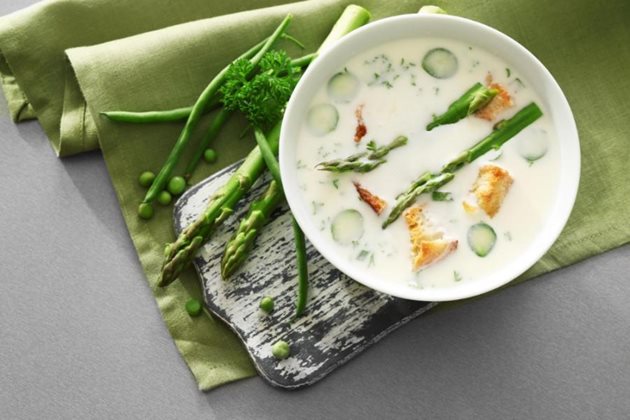 Even though Ivančice now has to source the asparagus for its feast from other areas, in 2018 a small field was established there, with around 16 thousand plants hiding under the surface, waiting to become famous again. Asparagus lovers will then have a chance not only to taste this crunchy delicacy in various meals but may also learn a thing or two about how it's actually grown. After all, asparagus is relatively easy to grow and even the most inexperienced gardener can grow it.
Read more about the topic
22. December 2022
What makes Christmas in #brnoregion special?
Christmas in the Czech Republic may seem the same as in lots of other countries. It's cold, the city is covered with colourful lights, a decorated Christmas tree, good food, gifts, and lots of meetups with friends and relatives. So what is so special about Czech Christmas then?