Kentico plants a tree for each bug found
The developers at Kentico Software are proud to say that bugs in their website design tool are very rare. For every one that shows up, however, Kentico plants a tree. Why do they do it and how does it work?
World-class content management system
The Brno-based Kentico entered the global market over ten years ago and its first client from 2004 is still among its customers. Since then, the company has grown substantially and in 2010 it was included in the Deloitte's Fast 50 list as the fastest-growing technology company in the Czech Republic. Today, it develops website design tools to help its clients in over 100 countries create websites and online shops and even simplify their online marketing.



Trees for bugs – why?
Kentico introduced its Trees for Bugs initiative in 2008. At the time, the company was doing very well and wanted to share its success in an unconventional way: it wanted to create something tangible to improve the community and environment it lives in. And thus the Trees for Bugs program was born. The initial hope was that the idea of software developers planting trees would draw some media attention, as well. Though that part didn't quite work out, customers as well as employees appreciated it very much, so the initiative has been going on ever since.
Win-win solution
And customers play a major role in driving Kentico tools forward. As the name of the initiative suggests, Kentico plants a tree for each software bug a customer finds. For added motivation, not only does Kentico promise to fix the bug within seven days, the tree they plant for it is decorated with a commemorative plate with the customer's name on it.


"Some of our customers even compete to report as many bugs as possible to have the largest number of trees planted. One developer from the Netherlands once had around ten trees planted at a single planting 'session'," remembers Petr Palas, CEO and founder of Kentico.

Kentico receives valuable feedback, the customer has a tree planted with their name on it as thanks for pushing the quality of the product further, and the green lungs of our planet grow by one more member. Everybody wins!
"I don't wanna find bugs – I just hope I can actually help. It makes Kentico look better, makes my product feel better when I'm using it and if I find a bug, it's a chance for me to improve the world," explains Shannon Dunn from Bridgespan Group in the USA, a long-time Kentico customer.
Planting trees together
Kentico isn't the only company to organize tree-planting as a teambuilding activity for its employees. What sets Kentico apart, though, is that the number of trees is an indicator of something real. In spring and autumn, developers leave their Brno offices and head outdoors. Together with their families and colleagues, they plant trees for all the bugs gathered since the last planting session. And it's a lot of fun, as the trees are usually planted in areas famous for their good wine or plum brandy.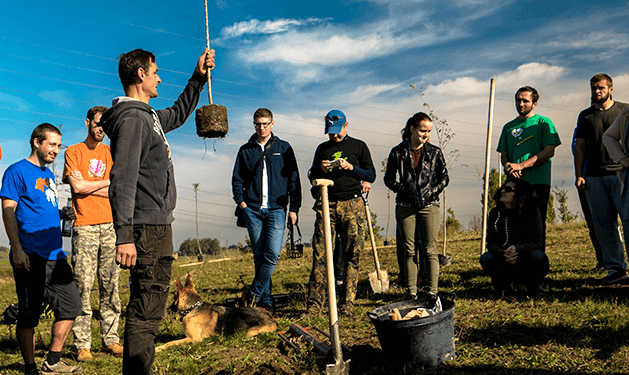 So far, Kentico has planted 2,922 trees in 18 locations throughout Moravia.
Choosing the locations to plant the trees is pretty simple. Often, they are villages in #brnoregion which some of the employees come from. However, the positive impact on the environment is important for the company as well, as the trees help restore balks and prevent soil erosion.
Read more about the topic