From A to B
Speaking of transport and transportation, #brnoregion still has some issues to improve but also so much to be proud of. The public transport in Brno in particular is one of the city's highlights and reason why living here is comfortable.
#brnoregion is situated in the very centre of Europe which has always made it a significant junction of trade routes. Even in the age of Roman Empire, some time in the first 400 years of our calendar, when the great Amber Road Trade Route went across our country, the people here understood relations between the trade route and their life standards. Aeons have passed, yet the importance of transport is much the same, probably even greater. It may be the millennial history that proves #brnoregion to be the cool hub.
Renowned server Numbeo.com published that the city with the very best quality of life in the Czech Republic is Brno, its benefits including the public transport: available at any time, easier to understand and use if compared to other cities.
Fast, Reliable, Clean, Ecological and Cheap: What Is It?
The public transport in Brno started as soon as 1869, when the local horse-drawn passenger tramway was the first in our country and the third in the Austro-Hungarian Monarchy (after Vienna and Budapest).
The network of public transport in Brno consists of 70 lines of tram, trolleybus and bus connections reliably and punctually operating 24/7. The rest of the region is serviced by urban and regional transport providers coordinated with the public transport of Brno. Moreover there are two specialties: coordinated night-time departures, and a boat line at the Reservoir of Brno.
#brnoregion is a wonderful region to be toured on foot or by bike, even the City of Brno invites alternative ways of commuting. Everything just seems within the walking (or riding) distance so inhabitants, visitors and tourists truly enjoy cycling, kickbiking, walking and hiking in the South of Moravia. Sports enthusiasts will soon find more members to their team. Needless to say, walking and man-powered means of transport are the most ecological transport ever.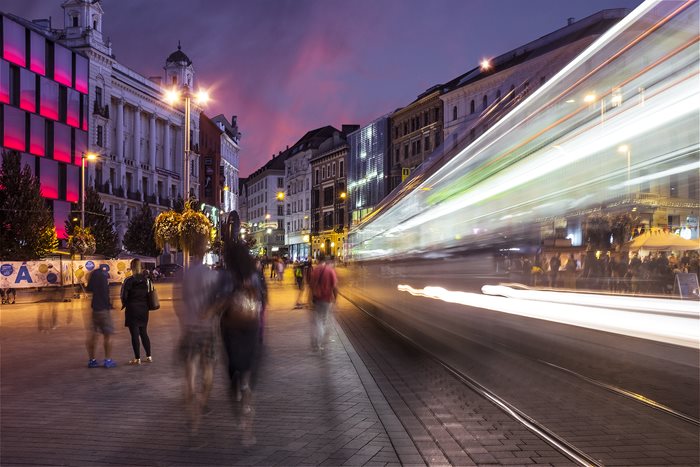 Buses and Trains? Of course
Another chapter focuses on how to get to #brnoregion. The best thing is that Brno is in the central part of the continent: no matter if you travel by bus, by train, by air; any place in Europe is within reach. Direct flights connect Brno to few cities of Europe, and the travel time is up to two, three hours. Recently there has been some cuts in number of direct flights from the airport of Brno but we may expect some changes and expansions here, hopefully.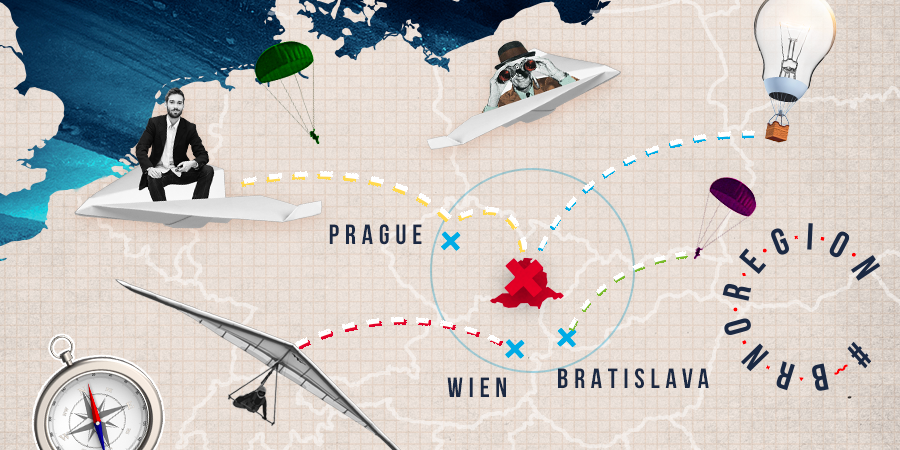 European Crossroads
If there's three of you, it pays to drive. However, going by car is quite often the most complicated way. Being at the very the centerpoint and crossroads of Europe, drivers have to be patient in busy traffic and expect some risk of an accident. Brno is an excellent illustration to the fact that the best means of transport during the rush hour is walking.
Join the Ride
The reliable public transport is very easy to get accustomed to. Foreign visitors appreciate its good organisation and paper timetables designed for everyone to read and understand easily. If your time to explore #brnoregion is limited, buy a one-day ticket and enjoy the ride, change trams and buses, go from one terminus to another. You will see what we take for granted and what we need to be reminded of by excited visitors and newly come expats; how brilliant the public transport system is. You get your ticket, find a stop and wait for a little moment. A good connection arrives any time soon.
More on transport in #brnoregion at www.gotobrno.cz/en
Read more about the topic