Taste the whole world in #brnoregion
Based on an analysis by Bott and Co Solicitors, you can find 94 national cuisines in New York, making it number one in the world. No, #brnoregion isn't this cosmopolitan, but our situation here is getting better every day, and tastes of Asia and North America are among the favourites.
Czech cuisine is famous, mainly for its fatty and sweet meals, though. Not too tempting? Come on! Roast pork with sauerkraut for lunch won't do as much harm to your balanced diet as a pack of crisps finished secretly at night. And you can't taste thick creamy sauces or meals richly flavoured with lard just anywhere. And sweet plum dumplings sprinkled with poppy seeds or cottage cheese are regularly served here as a proper dinner here.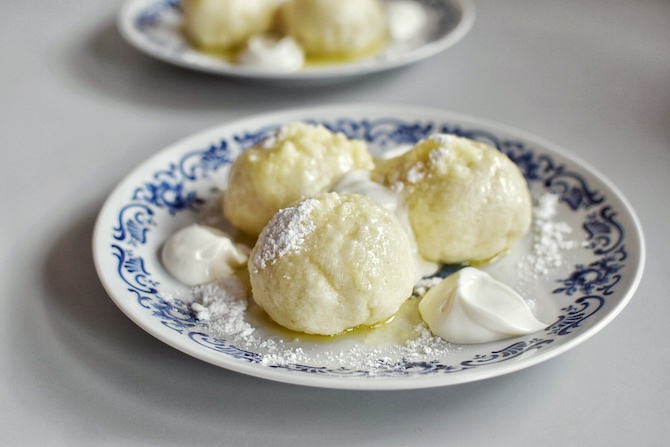 Still, we like to explore more exotic and often perhaps even healthier cuisines. A varied diet is very important, after all.
We belong to Europe
Our country rests (just us after a typical Czech lunch) in the very heart of Europe, so it's no wonder that cuisines from all parts of the world mix here. European cuisines aren't so exotic for us, even though preparing proper pasta is no piece of cake. Speaking of which, perhaps the best pasta in Brno is prepared by native Italian, Sergio, in his Castellana trattoria. Another Italian expat decided to try his luck with pizza. Sure, you can get pizza virtually everywhere in #brnoregion, but nothing really compares to the Italian pizza people line up for outside his tiny La Speranza bistro.
Taste other European cuisines in #brnoregion, too:
• Spanish tapas are paired with excellent wines in Don Pintxos.
• Take a trip south to Barrio Gotico Café in Kurdějov to enjoy a unique blend of Moravian and Spanish Mediterranean cuisines.
• Feel like having a snack? FÆNCY FRIES serves fries made exclusively from Czech potatoes, but prepared in the traditional Flemish way.
• The best place for fresh fish&chips is Great Britain, of course. But Ocean48, a local seafood shop, comes in close second.
American burgers and steaks everywhere you look
We like our butter buns, melted cheese, various dressings rich in flavour, and especially big pieces of meat. And that's not weird at all. We know all these from American movies, and burgers with a balanced taste comfort us so perfectly that, in the end, they aren't so different from our roast beef with sauce or grandma's dumplings.
The new trend of eating burgers has arrived in the Czech Republic only recently, but on a huge scale. No burger place will survive here without high-quality ingredients, which is something Burger Inn or local sandwich king Būcheck know very well. The latter is a mobile bistro inspired by other world cuisines as well, so instead of traditional burgers you can get a caramelized flitch of bacon prepared in the Asian style, grilled cheese or even smoked pork tongue, all these in a butter brioche that just melts in your mouth.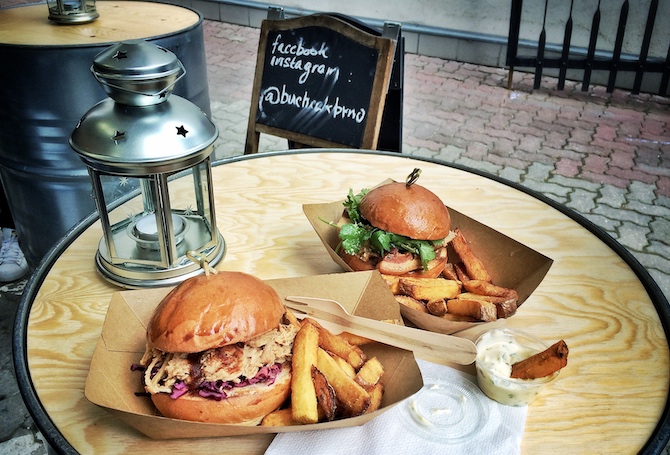 And places serving steaks are now virtually on every other corner. Good steaks. The well-established U starýho Billa (Old Bill's) steakhouse has been offering the widest selection of steaks for twenty years now, and besides typical American meat you can taste rare delicacies, like Austrian straw beef, Txogitxu from the Basque country, Swiss Luma with noble mould or even bear or kangaroo meat. Wow, bear meat!
Like in a movie
If you want to experience the "true" America, head to the north of Brno to EB diners. This bistro located by a gas station at a busy road is inspired by American diners from the 1950s, and not only in terms of menu. Leather seats, seats from buses, and waitresses wearing period costumes all contribute to a unique atmosphere.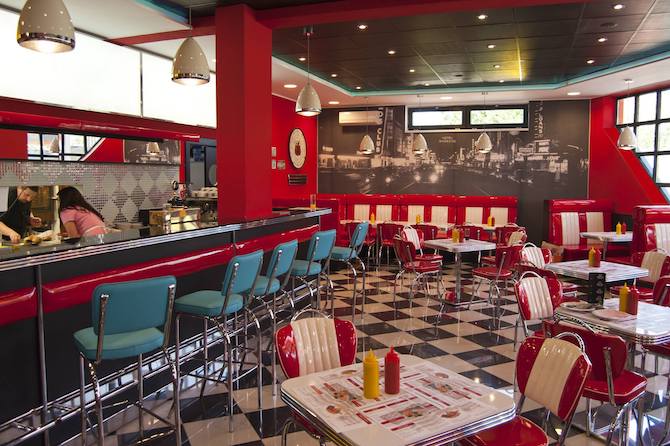 Speaking of America, we shouldn't forget about something sweet to round off the meal, so why not try donuts, like the ones from La Donuteria? Just writing the name is making our mouths water.
Our trip started in the USA, so we can take a quick look to the north and south as well.
• Canadian poutine served directly by a Canadian at Eh Bistro.
• Mexican tacos, burritos, quesadillas and tortas offered by Bistro Bastardo.
Add some more coriander, please!
The Vietnamese are the third most numerous group of foreigners in #brnoregion. Lots of them arrived in the 1950s and 1960s thanks to an agreement between the Czech and Vietnamese governments to improve their qualifications. It's kind of surprising, then, that the boom of Vietnamese cuisine only started in the last decade.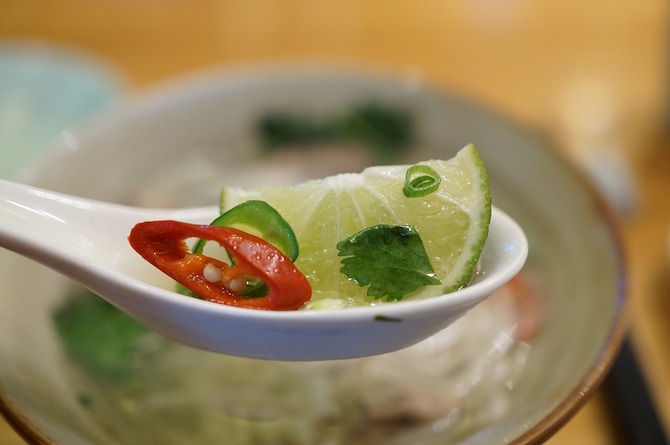 Years ago, "Chinese" restaurants used to be on every corner here. The quotes are intentional, as visitors from China wouldn't really enjoy their food. However, the quality of the new trendy Vietnamese bistros and restaurants is much better, and even though it sometimes seems like their cooks save herbs and typical coriander for themselves, their Phở Bo or Bún bò Nam Bộ (which is basically a salad with beef) have become very popular here.
There are lots of places serving Vietnamese food in Brno. However, the original pioneers are small bistros at the Vietnamese marketplace on Olomoucká Street. Downtown, we recommend places like Gỗ Brno or a small bistro named Vietnamské bagety.
Japan on a plate or in a bowl
Sushi is a global phenomenon and you can get it perhaps in every single city in the western world. Can you get some good sushi in #brnoregion, though? Yes, you can! In Koishi, you can even watch local Japanese sushi master Noritado Saito prepare it, or order some other Japanese delicacies. If you're on a budget, try the small basement bistro Ebisu, another place opened by local expats. And let's not forget about this new place – hot as a bowl of good soup. Yes, we're talking Japanese Ramen soup, here.
And what about other delicacies from Asia?
• Korean cuisine is served in the luxurious Mori restaurant or the cosy Doširak bistro.
• Enjoy Thailand in the Siam Thai or Pad Thai restaurants.
• Authentically spicy Indian and Nepalese delicacies are served by true expats in a number of restaurants, including Namaskar and Goa.
Immigrants of all countries, meet up!
If you mainly want to meet people from a similar expat environment and various cuisines aren't the main attractions for you, come to The Immigrant. You can participate in one of their pub quizzes in English and be sure to go for one of their burgers, made by their American chef.
Missing your cuisine in #brnoregion? Come introduce it at our regular Restaurant Day (similar to true Spanish Domaci Paella). It'll make our day!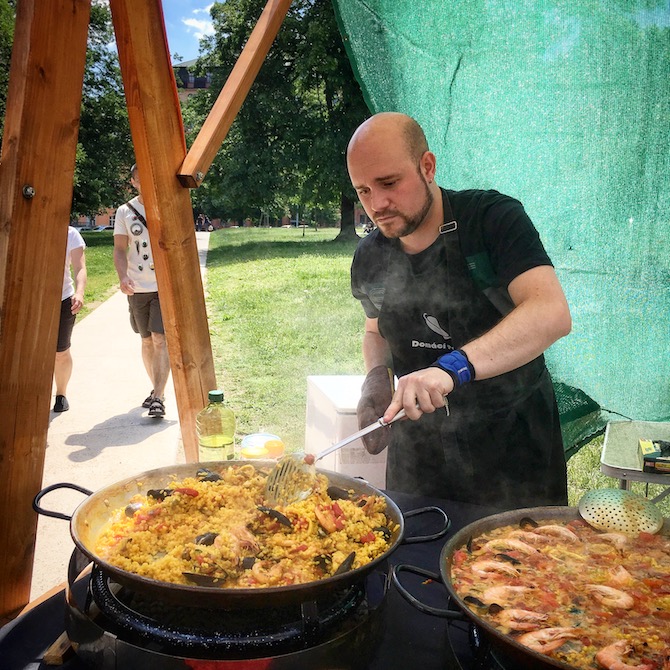 Read more about the topic
22. December 2022
What makes Christmas in #brnoregion special?
Christmas in the Czech Republic may seem the same as in lots of other countries. It's cold, the city is covered with colourful lights, a decorated Christmas tree, good food, gifts, and lots of meetups with friends and relatives. So what is so special about Czech Christmas then?
14. June 2022
New European Bauhaus: A home for smart Europe
The New European Bauhaus endeavors to merge the European Green Deal with quality design to be inclusive and accessible to everybody. The aim of this project is to show how sustainable innovations bring real, positive experiences into our everyday lives.