Too crazy for ordinary sports events?
Visit #brnoregion! We are just crazy. But laughter heals! (And strengthens your abs.) Fun is a crucial part of our lives – without it, things would just be boring. Here we love to drive weird vehicles and put on fun fancy costumes to further work our abs.
What follows is a description of unconventional sports events, but first we have to admit something. After finishing this article, even we were surprised to see what kinds of things we can think of in #brnoregion. However, put all the crazy things you've done in your life in a single heap and it'll quite likely look similar. So clench your diaphragm and let's go!
Costumes wherever you look
You don't have to be exactly Fantomas, but if you like costumes you'll enjoy them to your heart's content in #brnoregion. Outside carnival season, this display of fairy-tale and movie characters takes place together with all kinds of sports events.
Well, we do love our fairy-tales and legends, and that may be the reason. Do you know the one about wheelwright Jiří Birk from Lednice? One night in 1638, over a jug of Moravian wine, he bet his neighbours that in just twelve hours he'd create a wagon wheel and even roll it from Lednice to Brno before the city gates closed. Before dawn he cut down a tree, created a wheel and rolled it for 66 kilometres to Brno before the city gates closed. The wheel is still hanging from the ceiling in the entrance to the Old Town Hall in Brno. And even though Jiří won the bet and earned some decent money, rumour has it that he made a deal with the devil himself.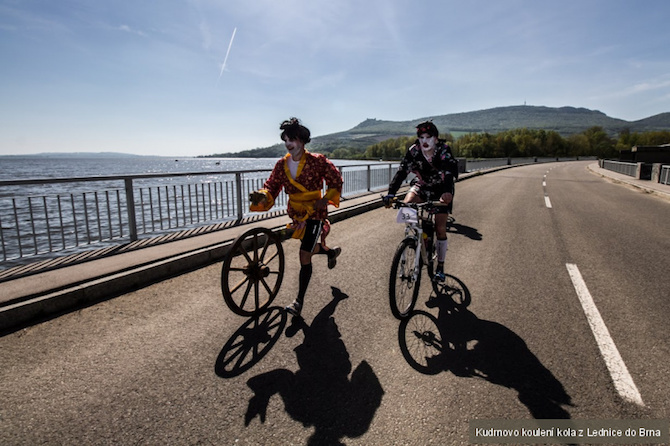 Whether it's true or not, every year we pay tribute to the memory of wheelwright Birk and roll a wheel from Lednice to Brno in a race. Well, with two minor modifications; the wheel is already completed and people race in teams. And not with the devil, but with their friends – one of them is rolling while the others are riding their bikes and take turns. And to make things even wackier, people like to put on various fancy costumes for the race.
Just make it to the finish line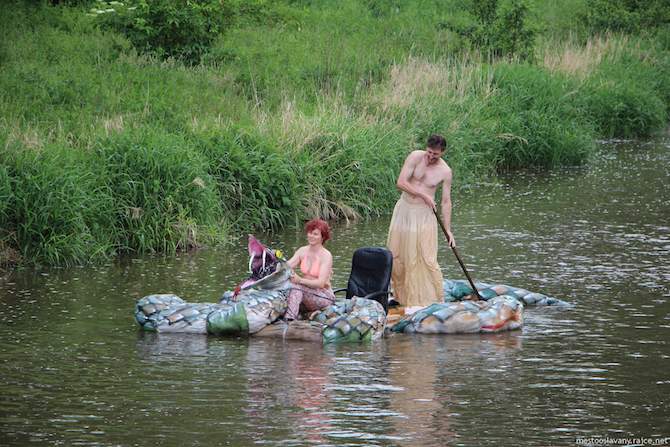 "Neckyáda" ("Necky" in Czech means a washtub) is a popular summer fun event where many of the participants refresh themselves on the water. Wooden washtubs used to serve mainly for washing the laundry, but with a little bit of imagination and skill they can even serve as boats. At your own risk, though! During this race of unconventional boats, only the toughest vessels with the bravest steersmen make it to the finish. They float down the river, hit the shallows, jump over a weir, and often it's not very easy to finish the race. And bizarre watercrafts need bizarre crews.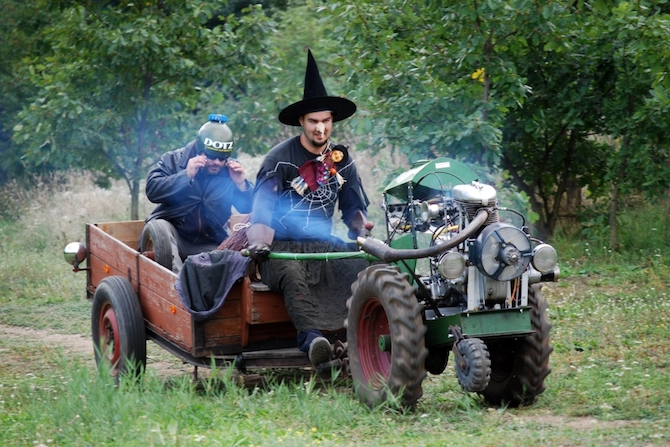 They say "It's the participating that counts", and this is very much true in the village of Vranovice. During the Vranovické hlinek race, small garden tractors rush down the route at a staggering speed of around 10 kilometres per hour, yet nobody doubts there's enough adrenaline. Then there's a cross-country skiing race around Vranovice which requires a special technique. Because it takes place in May. And no, there's absolutely no snow in #brnoregion in May. Well, there isn't much snow in winter here either, which is why it doesn't really matter when you organize a cross-country skiing race.
In 2016, this experienced French tourist witnessed the cross-country skiing race in Vranovice and commented: "I've travelled through fifteen European countries, but I've never seen anything like this."
Not far away in Charvátská Nová Ves, the locals get on their fixed-gear bicycles to participate in the "O dušu" race. And you'd be surprised how well they do, as most of them travel to work by bike every day.
But are there costumes? You bet there are. That's a must at all these events!
What a ride!
And this wide range of unconventional means of transport even extends to public transportation. And no, you don't have to be a bus driver; you're going to be passengers. Your task is to collect the highest number of points for taking a ride on various lines and going through stops in Brno within just three hours. And your route is up to you. It's not your quick legs that will get you onto the winner's podium; this time it's your bright mind!
But quick legs do come in handy when you're trying to catch a bus, which is one of the reasons why the students of the Brno University of Technology annually organize Běh na 53 (Run to Catch Bus No. 53) as part of their traditional student fest in May. No costumes this time; just your everyday clothes and shoes, unless sports apparel and running shoes are what you put on to catch the morning bus?
Ice Ice Baby
Cross-country skiing in summer, swimming in winter. And not in a heated swimming pool. This type of thing may not sound fun at all, especially when temperatures drop down to zero. Yet there are people passionate winter swimmers who get together at rivers and natural swimming pools to take a swim in almost freezing water. Take for example Břeclav, where cold-water swimmers have been meeting on Boxing Day since 1971 to disrupt their easy-going Christmas days with a swimming race in the river Dyje. And guess what! Even some of these tough guys love to put on crazy costumes.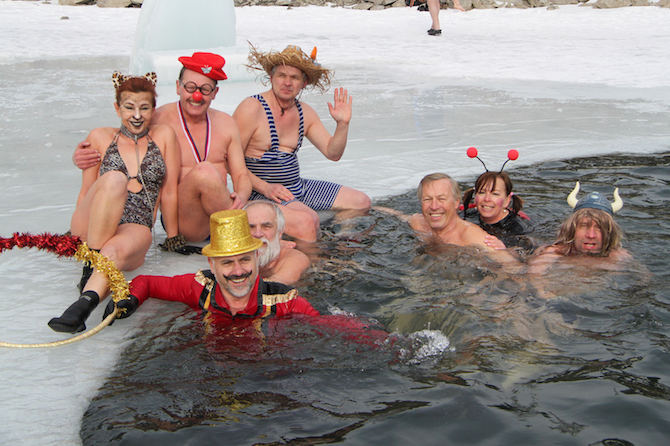 Already scratching your head? Well, swimming like this takes a lot of practice and certainly isn't a hobby for everyone. Some people think it's fun, but don't try it just because you feel like it!
We are very serious about children's games
Do kids play marbles where you're from? Or play with a yo-yo? In #brnoregion, we organize very serious tournaments in what may seem like children-only games. Yet not many know that even the ancient Romans and Aztecs used to play marbles. And the Czech Republic even hosted the very first world championship in this game. And what's it about? Two players try to get all their marbles into a hole. First by throwing them from the starting line and then by flicking. Whoever gets all their marbles into the hole wins.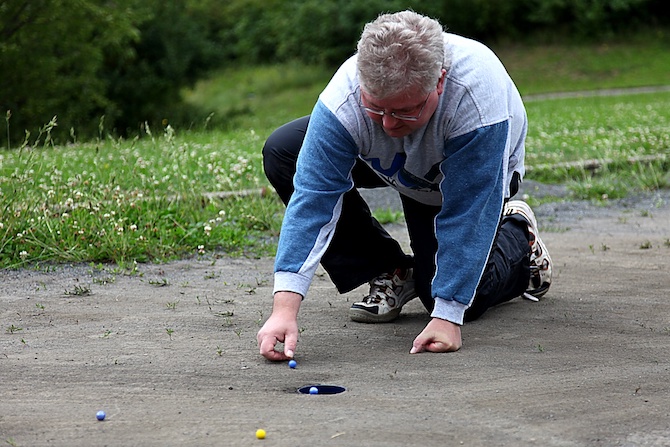 Playing with a yo-yo is a bit similar to juggling. In #brnoregion, it's popular mainly among the young. And Matyáš Držmíšek from Znojmo even won the European Champion in the junior category this year. Awesome, huh?

Need some more?
There are certainly more fun events and races like this in #brnoregion. Often organized by various clubs or groups of friends, mainly in small villages. These aren't commercial races with huge promotion, so it may be difficult to find out about them. If you come to #brnoregion, though, just ask the locals – they're sure to know. Quite likely the village they come from organizes a race in fly catching, casting shadows, throwing in the towel or some other crafty display of unconventional sports skills.
Read more about the topic
22. December 2022
What makes Christmas in #brnoregion special?
Christmas in the Czech Republic may seem the same as in lots of other countries. It's cold, the city is covered with colourful lights, a decorated Christmas tree, good food, gifts, and lots of meetups with friends and relatives. So what is so special about Czech Christmas then?