Who's changing the world for the better?
Let's talk about those who like to do things right while improving the world around them, no matter whether they'd like to fight the drought or invest the money into building the community. Even though their efforts sometimes look like just a drop in the ocean, let's not forget what Steve Jobs once said: "The people who are crazy enough to think they can change the world are the ones who do."
Even though the volume of plastic in the oceans, cutting down the tropical forests or droughts in Africa can be hardly influenced from #brnoregion, there are ways to take good care at least of this small country of ours, located in the very centre of Europe. We're happy to see various companies help as well as a number of non-profit organizations and – mainly – everyday heroes for whom good deeds are what they just do every day.
For more beautiful nature and better environment
In #brnoregion, there are several non-profit organizations that care about our environment just perfectly. Veronica ecological institute is the biggest in entire Moravia and you wouldn't come across any eco-terrorists there. If you want to learn how to recycle properly, what can be composted, how to keep your own chickens or how one full-grown tree can be a powerful A/C unit, this is the place to come ask.
Veronica has a fresh, modern approach to the protection of nature and cooperates with a number of Czech companies. And it also established a foundation which is another source of money for its activities. It's where people bring the things they no longer want or need but others could use; clothes, dishes, and furniture – these get another chance there while some waste is saved and people can get perfectly working things for a better price. And the money paid for them is used by the foundation.
New clothes made of waste as well as support for local businessmen? That's what's called Upcycling Challenge during which six Moravian designers create new designs made of the used clothes from the foundation shops.
Besides, Veronica supports establishing natural school gardens, awards a prize for teachers who motivate their pupils to care for nature, and in winter sells small firs in flowerpots that you can use as your Christmas tree and then plant outside in spring. At the foothills of Bílé Karpaty, it runs its own juice plant as well as an ecological guesthouse and a training centre. And there's so much more!
People and nature in the same boat
Partnership Foundation is the biggest Czech environmental foundation. It's based in Brno but it helps all over the country offering grants and professional services, educating as well as inspiring through examples of good practice.
The foundation supports tree planting, takes care of water in nature, deals with renewable energy sources as well as quality public places or friendly traffic. And it hugely contributed to the development of cyclo-tourism in the Czech Republic. Also, it supports the development of Greenways themed cycle paths. (Did you know that the best way to enjoy the South Moravia landscape is on a bicycle?)
The Czech Republic doesn't have problems with the lack of drinking water. However, this doesn't mean it's fine to just waste it. We have to face other problems – droughts as well as floods, drop in the level of groundwater or mud washed off the fields. What the local landscape lacks is an ability to retain water. And that's one of the things the Partnership Foundation tries to deal with, not only through grants but also through its For Water competition which focuses on responsible water management.
Learn how the world works
Lipka, an educational centre established by the South Moravian Region, helps children learn and care about our nature. It organizes various events (one-time or continuous) where even the youngest children (as well as adults, of course) can learn how an ecosystem works, what it's like to work with natural materials or how to bake bread in a clay oven. In the five educational centres in #brnoregion, you'll surely find an interesting event for yourself. Over 20 thousand students attend these educational programs every year!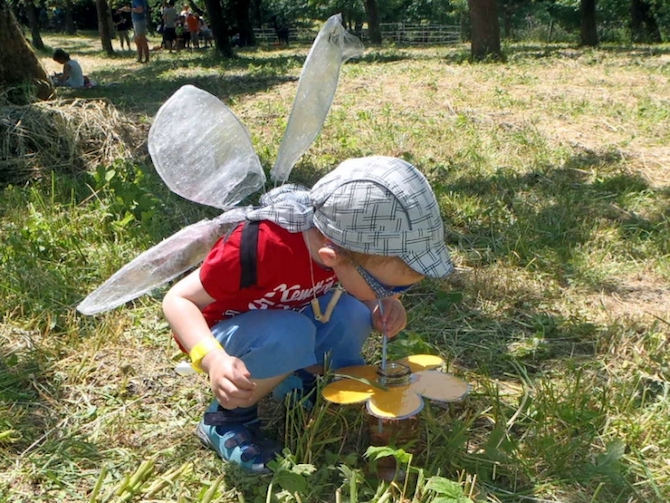 Doing business responsibly – PR or company culture?
Everybody knows that even companies may behave responsibly: philanthropy, recycling, planting trees or employing the blind – all these are covered by the term Corporate Social Responsibility. This time, however, we're not interested in the companies that do the very least to qualify as a "responsible company". We're interested in the companies whose CSR is incorporated into their mission as well as everyday activities. Let's take a look at some of them.
The Good Garden
We aim to protect our nature and, in return, we can see how our nature protects us. Grand Garden is a garden services company established by Ondřej Jahoda which made it to the finals at the Social Impact Award accelerator. It deals in implementation of therapeutic gardens in retirement homes. The seniors help implement as well as maintain the gardens which then helps them be useful and spend their time in a meaningful way. Also, they plant herbs that the company sells and – in return – supports the seniors with the money earned.
Sustainable from the day of birth
Let's take a look at some more facts about the environment. Did you know that in first two years of life a baby uses 4 thousand diapers on average? And the disposable diapers, once used, together weigh one ton. Who'd have thought, huh? That's why more and more cloth diapers are used again. It may be surprising but even this "sector" needed a proper amount of innovations, so six years ago mathematician Zuzana Hloušková and economist Radka Martínková founded Bamboolik and started to sow and sell modern cloth diapers that are as simple to use as the disposable ones. Sure, they need to be washed, but even with all the washing they are much friendlier to the environment than the disposable ones. Some of them are produced in sheltered workshops. The diapers by Bamboolik even made it abroad which only proves that the ladies have been doing a great job.
Chocolate knows no boundaries
Since 2015, Zuzana Filipová has been producing chocolate under her Nangu brand. And a very special chocolate it is! It comes in shapes of basic signs of the Czech sign language. Originally, she just wanted to produce chocolate and wanted to rent some production premises from the Union of the Deaf which then came up with this unconventional idea. She liked it and now even employs the deaf in her company.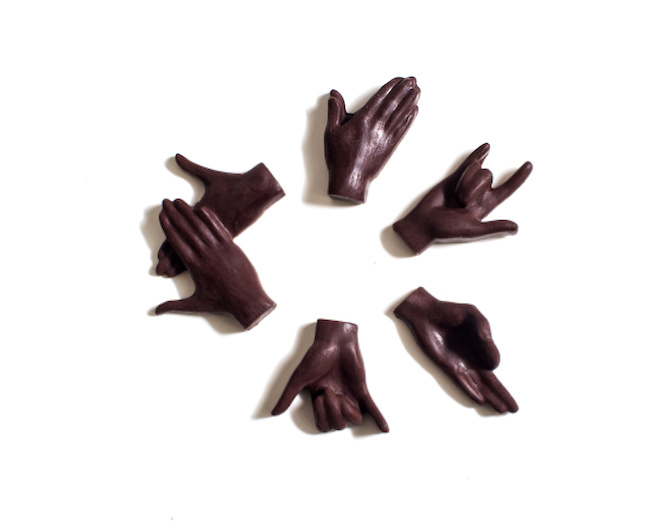 Have a cup of coffee and adopt a cat from a shelter
Pretty much everybody knows that there's plenty of cafés in #brnoregion. However, several years ago the first café where you can enjoy a cup of coffee as well as some nice purring was opened in Brno. And the purring certainly has stronger healing effects than any fruit smoothie. Pelíšek is a bit different, though. This cool café cooperates with the Abandoned Cat's Paws organization which helps cats in need. And Pelíšek not only holds events to support them but also helps them find a new home. If you simply fall in love with some of the cats in the café, you can even adopt it!

We've mentioned just a fraction of those who do good deeds in #brnoregion, but we root for them all! Next time, we'll take a look at Dobrokáva, which is a mobile coffee cart where you can get a cup of coffee in return for a good deed!
Read more about the topic